Private Heman Sprague
Fifth Iowa Volunteer Infantry
Fifth Iowa Volunteer Cavalry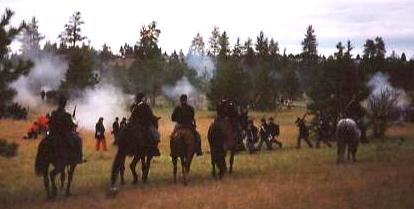 Two brothers who signed up to preserve the Union in the Fifth Iowa Volunteer Infantry were Heman and Hela Sprague of Fayette County, Iowa. They had been born in New York, but come with their family to Iowa before the war. They enlisted in Company E on July 1, 1861 and were mustered on July 15, 1861.
Heman was the younger Sprague brother, twenty-two at the time of their enlistment. Although his brother, Corporal Hela Sprague, was wounded twice, there is no evidence that Heman was scathed by the combat that surrounded him for four years. Records do indicate that when Hela was wounded on May 16, 1863 at the Battle of Champion Hill, his brother had to assist him from their forward location to the regimental surgeon near Vicksburg.The brothers fought side by side throughout the war.
The Sprague brothers reenlisted and remustered, and transferred together to Company G of the Fifth Iowa Cavalry, when their Infantry regiment completed its three year enlistment. They were joined in Company G by Corporal Charles Sprague who had served in Company F while in the Infantry.
The brothers mustered out with the rest of the regiment on August 11, 1865 at Nashville, Tennessee. Heman (known is some records, but not in the Official Roster as Herman) died in January of 1891 in Lincoln, Kansas.