Corporal Hela Sprague
Fifth Iowa Volunteer Infantry
Fifth Iowa Volunteer Cavalry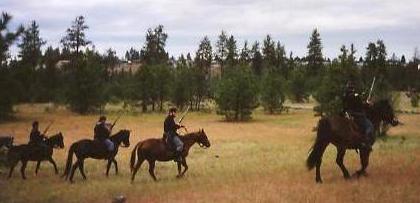 Two brothers who signed up to preserve the Union in the Fifth Iowa Volunteer Infantry were Hela and Heman Sprague of Fayette County, Iowa. They had been born in New York, but come with their family to Iowa before the war. They enlisted in Company E on July 1, 1861 and were mustered on July 15, 1861.
Hela was the older Sprague brother, twenty-seven at the time of their enlistment. In the Battle at Iuka, Mississippi, he was wounded in the side. He recovered well from this injury, but was wounded again in the hip on May 16, 1863 at Champion Hills, Mississippi. Presumably due to his courage in the face of the enemy, he was promoted to Eighth Corporal on November 1863 and Seventh Corporal on December 10, 1863. His brother Private Heman Sprague fought beside him throughout the war.
The brothers reenlisted and remustered, and transferred together to Company G of the Fifth Iowa Cavalry, when their Infantry regiment completed its three year enlistment. They were joined in Company G by Corporal Charles Sprague who had served in Company F while in the Infantry. Although there is no evidence the men were related, it is likely that as company-mates, not to mention men who shared the same surname, they became good friends.
Hela transferred from the Infantry into the Cavalry as a Fifth Corporal on August 8, 1864. The brothers mustered out with the rest of the regiment on August 11, 1865 at Nashville, Tennessee. He was married while on his veterans furlough and had seven children. He died in 1901 and was buried in the Prairie Home Cemetery in Butler, South Dakota.