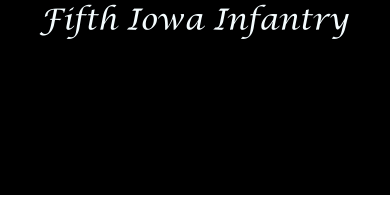 Welcome to the site of the Fifth Iowa Volunteer Infantry. The material has been compiled here in honor of the men who answered their nations call to preserve the Union--and to the wives and children who supported them during their years of sacrifice and danger.
On these pages you will find the complete regimental roster, biographies of individual soldiers, contemporary photographs and images, and much more.
Everyone is welcome to learn from the site, particularly descendants of regimental veterans. If you happen to be a great- or great-great-granddaughter or son of one of the men who served in the Fifth Iowa Infantry, we hope to hear from you. We would appreciate learning more about your veteran, and would be pleased to set up an individual page for him. We are especially eager to learn about photographs, documents or artifacts which may be in your possession. If you are willing to share them with the rest of the world, the Fifth Iowa Volunteer Infantry would be honored to host them.
The buttons to the left will allow you to easily navigate the facets of the Fifth Iowa Infantry website. If you would like to attempt a quick search of the site, feel free to use the tool below.
---