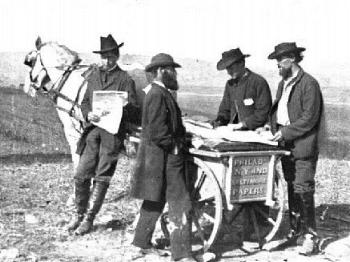 It comes as no surprise that the war between the states left its mark on most of the notable writers of the nineteenth century. This seminal event in American history seared the mind and spirit of everyone it touched. Even those who were not combatants themselves, had parents, brothers or children who knew the taste of gunpowder as it drifted in clouds across the battlefield.
The Fifth Iowa Cavalry and Infantry are proud to give you a taste of some of the literature impacted by the war in which these troopers and soldiers risked their lives to preserve the Union.
The name of Charles Nott may not be as familiar as most of the others, but Nott was a member of the Fifth Iowa Cavalry, and we are pleased to provide here an intriguing story which directly relates to the experience of the men of the Fifth Iowa Cavalry.
Enjoy sampling the works of these fine writers. If you would like to investigate their works more deeply, many sites dedicated to these authors exist on the internet.
---