Corporal William Codling
Fifth Iowa Volunteer Infantry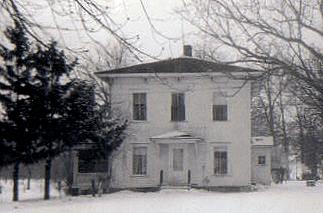 The Codling Homestead in Iowa

William Codling was an immigrant from England who rushed to preserve the unity of his adopted nation. At the age of twenty-eight, he enlisted on July 1, 1861 in Company E of the Fifth Iowa Infantry. His maturity and steadfastness resulted in his promotion to Sixth Corporal on June 20, 1862. On November 20, he became the company's Fifth Corporal, and on April 24, 1863 he was made the company's Second Corporal.
His rise in rank was stopped only when he was wounded in the leg on May 14, 1863 at Jackson, Mississippi. Three days later he received his final promotion, to First Corporal. On February 27, 1864 he was discharged due to his wounds, at St Louis, Missouri.
Following his time in the war, Codling was twice married. Each of his wives had a brother who served during the war, and his family estate preserves a letter from each. His first wife, Sara Teague was also born in England. Her brother, John, wrote: "We expect to winter at Davenport and if we do we will have a fine time of it this winter because we cannot drill when it is cold we have plenty to eat and to drink. We are divided off in to messes. There is only seven in the mess I am in we have sined a man to cook for us we have agreed to give him twenty five cents a month each. He is a first rate cook we have plenty of beef and some port and plenty of good baker's bread plenty of good coffee and sugar some molasses and some rice and beans occasionally…"
The letter written by his other brother-in-law, Lyman Weeks (brother of his wife, Fannie), is dated June 25, 1864 and was penned in camp near Helena Arkansas. He describes picket duty, a common assignment for soldiers in every regiment.
Yesterday I was on Picket for the first time, to go on picket we have to start at 8 oclock march to town and then wait there untill the high band marches through various styles, then we start and march to our post There are 3 privates and one corporal to a post one stand two hours and then the others the same. We take our grub and stay untill the next morning about 10 oclock. We are having some warm weather now and it makes the swet run to climb the hills it is all hills as far at it is cleared west of us I had to go most to the woods and up one hill and down another to get to where I stood picket, it was on top of a hill…
Three days later he wrote: "They have furnished us with 20 more rounds of cartridges. I have got 45 now so I guess they calculate on a battle. I heard from good authority that the general said the expected they would attack us lat night. But if they attack us we will try and do the best that we can and leave the result with God."
Due in part to his early return from the war, and good fortune, several other pieces of correspondence received by Codling have survived. These include letters from, Private Peter Putman, Lieutenant William Peck, Sergeant Robert Lynch and Andrew Canfield (sergeant major of the Infantry, commissioned as a lieutenant in the cavalry).
Following the war, Codling and his wife Fannie had at least three children.
The Fifth Iowa Volunteer Regimental site is indebted to Ronald Harris for the letters referred to above, and to Therese Hogan, current owner of the Codling estate, for the photograph.