Lieutenant William Peck
Fifth Iowa Volunteer Cavalry
Fifth Iowa Volunteer Infantry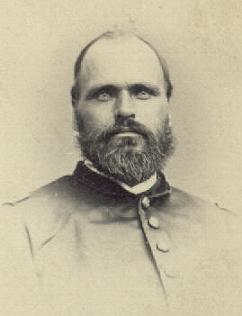 William S. Peck enlisted in Company E of the Fifth Iowa Volunteer Infantry on July 1, 1861, as a Fifth Sergeant. A resident of Fairbanks, Iowa, he was promoted to Second Sergeant on June 14, 1862 and commissioned as a Second Lieutenant on February 26, 1863.
Peck proudly accompanied the other men of regiment who elected to become a part of the Fifth Iowa Veteran Cavalry Consolidated when their initial enlistment ended. As a member of the Fifth Iowa Cavalry, he served as Second Lieutenant in Company G until he was mustered out with the regiment on August 11, 1865 at Nashville, Tennessee.
An interesting letter written by Lieutenant Peck to his hometown newspaper has fortunately been preserved in the History of Buchanan County, Iowa, 1842 to 1881.
HEADQUARTERS COMPANY G, FIFTH IOWA
NEAR MACON, GEORGIA, April 30,1865

EDITOR GUARDIAN, SIR: Having received orders this evening that we should be allowed to send one letter from a company to our friends at the north, I thought that by sending you this letter for publication our friends in Independence and vicinity could be relieved of their anxiety for us more satisfactorily than in any other way. Our company has been very fortunate. All the men belonging formerly to Company E, Fifth Iowa Infantry, who started with us from the Tennessee River at Chickasaw Landing, are with us yet, and all in good health. Our company has lost but one man on the whole trip, Thomas B. Limbocker, who was wounded and left at Montgomery, Alabama.

A national salute is to be fired in the morning in honor of peace. Our friends will probably see us before long, when the boys can tell of the "deeds that were done" better than I can write them.

Respectfully, your obedient servant,
W. S. PECK
Company G, Fifth Iowa Cavalry
The Fifth Iowa Cavalry site is deeply indebted to Michael Breeling for sharing the civil war image of Peck, for which he maintains the copyright.