Lieutenant Andrew Canfield
Fifth Iowa Volunteer Infantry
Fifth Iowa Volunteer Cavalry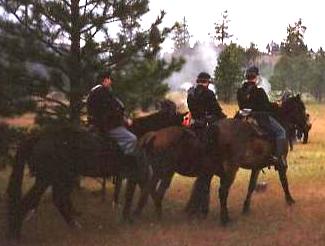 Andrew M. Canfield had a distinguished career as a veteran of both the Fifth Iowa Infantry and the Fifth Iowa Cavalry Consolidated. Enlisting at the age of twenty, he served in Company D of the infantry regiment. His exceptional leadership skills were widely recognized, and he was promoted to Sergeant Major on June 9, 1863.
When the members of the regiment reenlisted to see the war to its conclusion in the cavalry regiment, Canfield had to revert to the rank of First Sergeant in Company G. However, his talents continued to be recognized, and on January 24, 1865, he as promoted to First Lieutenant. He mustered out with his companions on August 11, 1865.
Following the war, Canfield continued to bear a special affinity for his fellow veterans who had marched, as well as ridden, beside him. The following letter was mailed to all members of the Fifth Iowa Infantry prior to the 1892 National Encampment of the Grand Army of the Republic. This copy was mailed to Private William Codling. Although the correspondence was typed in the last century's version of a "form letter," the warm personal tone of Canfield's affection for his friends is evident.
Washington, D.C., June 1, 1892

DEAR COMRADE:

The National Encampment of the G.A.R. will meet here on the 20th of Sept., prox., and the comrades of the 5th Iowa Inf. will come with their G.A.R. Postes from different localities, and be quartered in various parts of the city, withouth any means of knowing who are here, or how to find them.

To give myself the pleasure of seeing them all, and them an opportunity of meeting each other, I have invited them to meet at my home on the evening of September 19th--the evening before the encampment will open--and celebrate together the anniversary of the battle of Iuka, Miss.

Yourself and family are cordially invited to come and spend the evening with "the Boys" around my camp fire.

Please answer.

Fraternally your,
A.N. CANFIELD
Sgt. Maj. 5th Iowa Inf.
The Fifth Iowa Volunteer Regimental site is indebted to Ronald Harris for the letter quoted above.