Captain Albert Ellis
Fifth Iowa Volunteer Cavalry
Fifth Iowa Volunteer Infantry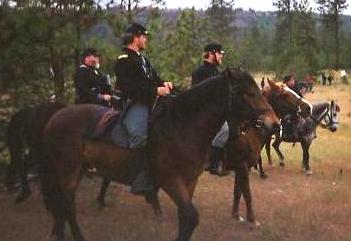 Captain Albert Ellis was a resident of Columbus City, Iowa who enlisted in the Fifth Iowa Volunteer Infantry at the age of twenty-five. Although the specific date of his enlistment is uncertain, he was with the regiment early enough that in October of 1863 he was able to sign a special "Union Defenders Certificate" for Private William Neal who was discharged from the regiment due to a severe wound received in combat.
On August 8, 1864 he transferred with the rest of his regimental members who decided to reenlist, into the Fifth Iowa Cavalry. Although he did not remain with the regiment until the end of the War of the Rebellion, he did serve until the expiration of his own time of service, being mustered out at Nashville, Tennessee on November 9, 1864. The following passage from the history of the Fifth Iowa Cavalry in the Official Roster describes the leadership role played by Ellis in the creation of the Fifth Iowa Consolidated Cavalry.
On the 28th of August the regiment, now greatly reduced in numbers and with Major Young in command of the brigade (relieving Lieutenant Colonel Kline of the Third Indiana, who was compelled to relinquish the command on account of sickness) again moved, with the Third Cavalry Division, to the rear of the enemy at Jonesboro. In this movement the regiment lost heavily in proportion to its number engaged. Lieutenant Peter McGuire was killed, eight men were wounded and ten missing. The regiment was highly complimented by General O.O. Howard for its gallantry in action. On the 1st of September the regiment with its brigade cowered the retreat to Jonesboro and East Point, going Into camp at the latter place. Here it was joined by the veterans and recruits of the Fifth Iowa Infantry, then consolidated into two companies, I and G, under command of Captain Albert G. Ellis. Under an order of the Spar Department, dated August 18, 1864, these companies, constituting the remnant of the Fifth Iowa Infantry, had been transferred to and consolidated with the Fifth Iowa Cavalry, on account of the fact that neither regiment had a sufficient number of men left to maintain a separate regimental organization.

These veteran soldiers of the Fifth Iowa Infantry had a splendid record of three years hard service, which was continued with the Fifth Iowa Cavalry to the close of the war. The arduous campaign around Atlanta had so completely worn out the horses of the regiment that only thirty were fit for service at the time the consolidation with the Fifth Infantry took place. The regiment was therefore ordered to Nashville to be remounted and completely equipped.