Private William Neal
Fifth Iowa Volunteer Infantry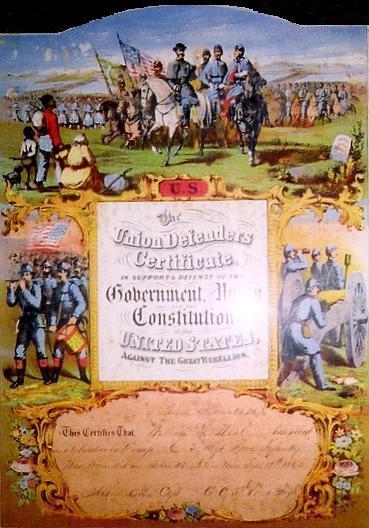 Private William Neal was eighteen when he enlisted on July 1, 1861. He was mustered into Company C of the Fifth Iowa Infantry on July 16th. He served in this proud regiment for more than a year before he was severely wounded in the face on September 19, 1862 at the Battle of Iuka, Mississippi.
The unique certificate pictured above was presented to him by Captain Albert Ellis of Company C. Ellis was also a resident of Columbus City, Iowa, so it is quite possible the men had known each other before the war. The colorful certificate reads:
The Union Defenders Certificate in Support and Defense of the Government, the Union and the Constitution of the United States against the great rebellion. Dixon Station, October, 1863. This certifies that William H. Neal served as a volunteer in Company C, 5th Regement, Iowa Infantry was wounded in action at Iuka, Mississippi. September 9th, 1862
Signed by Albert Ellis, Captain, C, 5th Iowa Infantry
Despite his grievous wound, Neal's patriotism motivated him to reenlist after he recovered. On May 17, 1864 he enlisted in the Forty-Fifth Iowa Infantry. His second regiment mustered out on September 16, 1864 at Keokuk, Iowa, with the expiration of their term of service.
We are very grateful to Gordon Bricken for sharing this amazing certificate with us.