Private Oscar D. Bryan
Fifth Iowa Volunteer Infantry
Fifth Iowa Volunteer Cavalry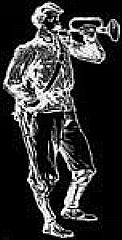 Oscar Dayton Bryan, the son of James Madison Bryan and Sarah Rockwell, was born in Geauga County, Ohio in 1849. His father was born in New York, and lived in Ohio for a few years before settling in Buchanan County, Iowa, near Independence. Oscar was one of nine children, seven of whom lived to adulthood. He grew up on the farm in Buchanan County. His mother died in January of 1861, a month after giving birth to her ninth child.
By early summer of that year, his older brother Sergeant Madison Bryan had enlisted in the Fifth Iowa Infantry. In October, his father remarried. The following January, another older brother, Lawson Bryan, enlisted in the 13th United States Infantry. Oscar remained at home through 1862 and 1863, attending school and helping on the farm.
When he finally reached the age of eighteen, he enlisted on February 29, 1864 in the same unit as his brother Madison (Company E of the Fifth Iowa Infantry). Upon the conclusion of the regiment's initial three year enlistment, he joined Madison in transferring to Company G of the Consolidated Fifth Iowa Cavalry. As a cavalry trooper, Oscar served as a bugler. Since he was born November 24, 1849, it means he was 15 in February of 1864, and not 18 as he claimed! In fact, he was only one of many soldiers-on both sides-who lied about their age to be able to enlist. When Oscar died years later, an old friend related to the newspaper: "We have heard him tell with real enjoyment how young lads of the Civil War period, eager to enlist, were refused by the recruiting officer and told to 'come back when they were 18.' The next day or soon thereafter these same lads presented themselves at the enlistment quarters and to the question 'How old are you this morning,' the reply came 'Eighteen' and the persevering boys would then be accepted without further challenge, much to their own delight and to the pleasure of the recruiting officer as well, for by that time -- the last year of the great war -- new men were needed badly."
Doubtless, his brother Madison, at home on furlough in April of 1864, reassured his family that he would look out for his younger brother. When Oscar left home, his father would have been short-handed on the farm, with his three eldest sons serving in the Union's armies.
After the war, he lived for a time with his father. He then used his bounty land warrant to obtain a grant in Nobles County, Minnesota, where his plot adjoined the land granted to his brother Madison. He married Lyda Adelia Sprague October 19, 1872 in Belmond, Iowa. She was born in Wabash, Indiana; her sister later married Oscar's youngest brother, George Bryan. Within a year of their marriage, Oscar and Lyda moved to their new homestead in Minnesota, along with their new infant daughter. Among their pioneer experiences was living for a time under an overturned wagon box. Over the next 37 years in Grand Prairie Township, they built their farm and raised four children, one of whom died in childhood.
In later years, he attended to his civic responsibilities. He was appointed county commissioner to fill a vacancy in July 1903, and was elected commissioner in 1904 and 1906, running on the Democratic ticket without opposition. He also served 13 years as chairman of the Grand Prairie Township board, and was treasurer of the school district. He was a member of the Odd Fellows and Workmen lodges.
By 1910, Oscar had left the farm and was living in Ellsworth Village, Grand Prairie Township, Minnesota. He received a pension for his Civil War service, and like many other veterans, would no doubt wear his uniform during observances for Decoration Day and Independence Day. He died September 16, 1932 in Ellsworth. He was buried in Grand Prairie Cemetery, with full military honors given by members of the Gilbert Larson Post of the American Legion. His wife Lyda made her home with their daughter Jane Bryan Wedge in Ellsworth, and died there on May 31, 1939.
The Fifth Iowa Volunteer Regimental site is indebted to Kathryn Wells for this biographical account of the life of Private Bryan, who was the brother of her great-great-grandfather.