Private Stephen Washburn
Fifth Iowa Volunteer Infantry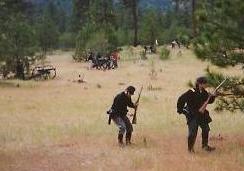 Private Stephen Reuben Washburn served side by side in Company E of the Fifth Iowa Infantry with Sergeant Madison Bryan who would become his brother-in-law, shortly after the war. Although he did not join Bryan in reenlisting to see the war to its conclusion as a member of the Fifth Iowa Cavalry, he did serve with honor for three bloody years, being mustered out on July 30, 1864 at Chattanooga, Tennessee.
Stephen Washburn was born about 1843 in Lysander, Onondaga County, New York. His parents were Henry Washburn and Anna Stevens, both of whom grew up in Lysander. His father was a carpenter, who moved his young family to Mexico, New York around 1850, and then to Lake County, Illinois in 1855 for a few years. (Washburn's father had a brother who lived there.) Finally in 1859 the family settled on a 150 acre farm in Buchanan County, Iowa, a few miles from Independence.
Washburn was the second son, the fourth of eleven children, and was named after both his paternal and maternal grandfathers, Stephen Washburn and Reuben Stevens. His parents had made an equally astute decision to name an older sister after both grandmothers. The family lived close to both sets of grandparents in New York, and later the Stevens grandparents came to Iowa to live with the family.
Washburn's family had a proud military heritage. His great-grandfather, also named Reuben Stevens, had fought in the Revolutionary War with both the Connecticut and New York militias, and later in the War of 1812 as well.
Washburn enlisted on July 1, 1861 at the age of eighteen. His older brother Enos B. Washburn had already enlisted a few months earlier, and was serving in the Fifteenth Illinois Infantry. His younger brother Frank would later enlist in 1864 in the Thirty-third Wisconsin Infantry.
Following the War Between the States, he married Ella Robinson of Independence. Like his father and two of his brothers, he became a carpenter. He later joined many of his former Company E comrades-in-arms, including his brother-in-law, in Nobles County, Minnesota. He was working as a carpenter in Rushmore at the time of the 1880 census.
Tragedy struck on February 25, 1881, when he was working and fell from a scaffold. He died shortly afterwards, and was brought to the family home in Buchanan county Iowa for burial. His grave is appropriately marked with the GAR insignia.
Washburn and his wife had four children: Anna M Washburn, born 1873-1874, Louisa Washburn, born about 1876, Frank T Washburn, born about 1879-1880, and Reuben S Washburn, born shortly before his father's death in 1881. His wife Ella moved back to Independence with their children, to be nearer both sets of grandparents. Washburn's oldest brother Enos died in 1886, and was also brought home and buried next to Stephen. Their parents were later buried near their veteran sons.
The Fifth Iowa Volunteer Regimental site is indebted to Kathryn Wells for this biographical account of the life of Private Washburn, who was the brother of her great-great-grandmother.