Lieutenant Jacob Weaver
Fifth Iowa Volunteer Cavalry
Fifth Iowa Volunteer Infantry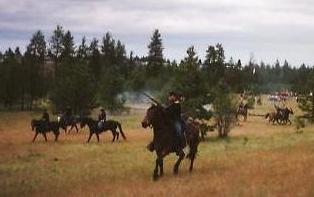 Jacob Weaver was one of the proud soldiers who served in both Fifth Iowa regiments. In the biography below, the author describes the severe losses experienced by the Fifth Iowa Infantry due to their heroic stands in a number of extremely violent battles. While the phrase "until the regiment was almost annihilated" is a bit of hyperbole, the truth is that at the conclusion of their three year enlistment, approximately 180 men reenlisted for the remainder of the conflict. As this was an insufficient number of men to continue the distinguished regiment, the veterans were transferred to the Fifth Iowa Cavalry which became "Consolidated." The former infantry soldiers turned cavalry troopers then constituted two of the three companies lost by the release of the Minnesota companies (Brackett's Battalion) to return to service on the frontier.
At the age of twenty-four, Weaver (a resident of Mechanicsville, Iowa) enlisted on September 1, 1861. He was slightly wounded in the hand on September 19, 1862, at Iuka, Mississippi. On April 11, 1863 he was promoted to Third Sergeant of Company A. He was made Quartermaster Sergeant on June 1, 1863. He reenlisted and remustered January 5, 1864, transferring to Company I of the Fifth Iowa Cavalry Consolidated. On December 29, 1864 he was commissioned Second Lieutenant of his company, with promotion to First Lieutenant following on July 5, 1865. He mustered out with the regiment on August 11, 1865 at Nashville, Tennessee. It is interesting to note that as an "acting captain" at the time of his separation, Weaver was quite appropriately addressed by that rank as a sign of his community's respect.
The following account is taken from The Past and Present of Jasper County which was published in 1912.
The record herein presented is that of a man who was a few years ago among the best known and most influential of the citizens of Colfax, whose life is in all respects honorable and a worthy example. Responding to his country's need in his youth, he served faithfully in her armies, and for his bravery and efficiency he won promotion from the ranks to the command of a company; at the close of the war engaging in business, he proved his capability, and easily won success; he was always ready to aid in the development of his community; and though his death seemed untimely, yet he had completed a full life, and in deeds and works had lived more than many who have lived longer.

Jacob F. Weaver was born in Indiana, the son of George H. and Elizabeth (West) Weaver, on December 5, 1837. His mother was a sister of William West, a merchant of Colfax. Both his parents died when he was an infant, and he was reared to maturity by his grandmother West. At the outbreak of the Civil War he enlisted at Mechanicsville, Iowa, in the Fifth Iowa Infantry, in which he served until the regiment was almost annihilated, and he was severely wounded. On his return after the healing of his wound he was transferred to Fifth Iowa Cavalry, was promoted, and was mustered out as first lieutenant, acting as captain. He took part in twenty-six battles and skirmishes, and went with Sherman to the sea. After the war he was a leading member of the Grand Army at Colfax.

In 1865 Captain Weaver came to Newton, Iowa, and engaged in the drug business for three years. In 1868 he came to Colfax, and bought out the interest of Mr. Kennedy in the firm of West & Kennedy, in the mercantile business, the new firm being West & Weaver. Until September 1883, Captain Weaver remained a member of the firm, which had remarkable success, and was during that time the leading business firm in the city. Captain Weaver accumulated a fair amount of property in Colfax. He was especially active in the Republican Party, and did considerable work for his party all over the County of Jasper, which was effective, and ranked him as one of the most sucessful workers of the party. He never sought any local office, but was postmaster of Colfax for seven years, dying before his second term expired. Mrs. Weaver was appointed postmaster from 1894 to 1898. Captain Weaver died on January 6, 1893, at the age of fifty-five. His loss was deeply felt by the community.

Captain Weaver was first married to Kate M. Dee, of Colfax. After her death he was married to Adella V. West, of Colfax, a daughter of Joseph T. West, a pioneer of Jasper County, and a grain merchant of Colfax. Joseph T. West was born in Hicks County, Pennsylvania, and was married in Mount Vernon, Iowa, to Susannah Hahn, the daughter of Daniel S. and Permelia (Epperson) Hahn. Mr. Hahn was an early settler of Lynn County, Iowa, and came in the forties from Virginia. His wife was a native of Kentucky.Joseph T. West died in Colfax, in 1900, at the age of seventy-one. Mrs. Weaver survives her husband.

Captain and Mrs. Weaver became the parents of three children: Roscoe B. Weaver graduated from Simpson College in 1905 and served as a first lieutenant in the Philippine constabulary for about four years from 1905 to 1909. For three years of this time Mrs. Weaver resided in the Philippines with her son. He is now a student at Yale University, New Haven, Connecticut, taking post-graduate work. Gail S. Weaver is deceased. DiEtta J. Weaver is in school in Colfax.

Captain Weaver was among the foremost men of Colfax in all respects, and had strong faculties of leadership. He was a progressive business man, active in public interests, and a kind and loving husband and father.