Corporal George F. Watson
Fifth Iowa Volunteer Infantry
Fifth Iowa Volunteer Cavalry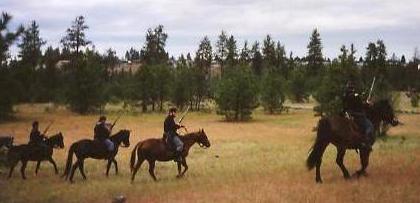 George F. Watson (Wattson) was an eighteen year old resident of Earlville, Iowa when he mustered into Company K of the Fifth Iowa Volunteer Infantry on July 15, 1861. During his tenure in the regiment, he was promoted to Second Corporal and then to First Corporal. With many of his comrades he went on to serve in the Fifth Iowa Cavalry Consolidated on August 8, 1864.
However, Watson's service in the regiment was different than the majority of his infantry compatriots. Apparently he did not enter directly into the regiment with his friends. While they transferred directly, forming Companies G and I to replace two of the detached Minnesota companies, Watson must have had a gap in his service. Watson's entry in the Fifth Iowa Cavalry Consolidated states that he "enlisted" (rather than simply transferring) on October 18, 1864. Likely to his disappointment, he was mustered into Company M, rather than into one of the "infantry companies." Apparently he joined the cavalry as a private, since three additional promotions are recorded: Eighth Corporal on January 1, 1865, Sixth Corporal on March 1, 1865, and Fourth Corporal on July 1, 1865. He mustered out at the end of the war on Aug. 11, 1865 at Nashville, Tennessee.
Without searching his pension records (a job for his descendants, assuming some exist), little else might be known about him. However, other researchers have posted the following entry from the History of Mitchell and Worth Counties which was published in 1884. It reveals several interesting things, including the fact that he was apparently elected to political office. The Official Rosters spell his name with a single "t," although the history cites two. Also, he is addressed with the honorific "captain," which is apparently a reference of respect for his military service; there is no evidence that he was ever commissioned. Furthermore, the reference to Dutch River, was apparently a mistaken reference to the engagements which took place near the Duck River. Presumably however, the rest of the information is accurate.
WATTSON, Captain G.F., postmaster at Northwood, came to Worth County, Iowa, in 1865. He was born in Adrian, Michigan, August 19, 1843. His parents were Charles R. and Jane M. (Mathews) Wattson. His father was a native of Philadelphia, where he was married by Rev. Dr. Tyng, in 1837. Soon after marriage he moved to Adrian, Michigan, where he remained until 1852, when he went to Winneshiek County, Iowa, and engaged in farming. Captain G.F. grew to manhood in Iowa. In 1861 he enlisted in company K, 5th Iowa Infantry. He took part in the following engagements: New Madrid, Corinth, Iuka, second battle of Corinth, Champion Hills, siege and capture of Vicksburg. In July he re-enlisted in the 5th Iowa Cavalry and was in the Dutch River campaign against General Hood, also under Wilson through the Carolinas. He served until the close of the war. He arrived at Northwood, Worth Co., Iowa, in 1865, and in 1868 opened the first drug store in Northwood. In 1873 he was elected sheriff of the county, holding the office for six years. In 1881 he was appointed postmaster, which office he still retains. In 1866 Mr. Wattson was married to Felixine Wardall, a daughter of Charles Wardall. Mr. and Mrs. Wattson are the parents of three living children - G. H., Carrie and Charles. Mr. Wattson is a member of the Masonic Blue Lodge and Chapter, also a member of the G.A.R. Oct. 9 he was elected to the General Assembly from the eighty sixth district.