Corporal Clark B. Stone
Fifth Iowa Volunteer Infantry
Fifth Iowa Volunteer Cavalry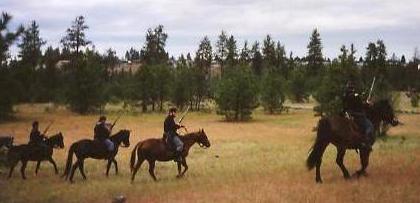 Clark B. Stone was born on September 12, 1844 in Indiana. In 1862, he was a patriotic resident of Lancaster, Iowa. He answered the call to serve by enlisting in Company D of the Eighteenth Iowa Infantry. Unfortunately, for some reason not recorded in the Official Rosters of the Iowa regiments, he was not mustered. The entry simply says, "Stone, Clark B. Rejected August 6, 1862, by Mustering Officer." However, we can provide a fairly confident guess as to why he did not end up mustering in the Eighteenth.
Stone may well have initiated his attempt to join the Eighteenth while he was actually hoping to become a part of the Fifth Iowa Infantry. The fact is that Stone enlisted in the Fifth on August 3, 1862--prior to his "non-muster" in the Eighteenth. He was mustered into Company F of the Fifth on August 31, 1862. The reason for his preference to serve in the Fifth may be attributed to the fact that he joined another "Stone" (perhaps a brother or a cousin) already serving in the regiment. Frederick Stone was a year older than Clark, and had enlisted in Company F on July 3, 1861. He served for two years, being discharged (reason not mentioned in the Roster) on April 22, 1863 at Milliken's Bend, Louisiana.
Clark, however, served throughout the existence of the Fifth Iowa Infantry. When the men of the infantry regiment who wanted to see the war effort to its conclusion reenlisted to serve in their sister regiment, the Fifth Iowa Cavalry. Stone transferred into Company G as a noncommissioned officer. He entered cavalry service as a Seventh Corporal, on August 8, 1864. Along with the regiment, he mustered out on June 17, 1865 at Nashville, Tennessee.
After the war's end, Stone eventually made his way out to Salem, Oregon. He supported himself and his family as a mason and bricklayer. He outlived his wife Mary, dying on January 25, 1932. He was buried in the Salem's Pioneer Cemetery.