Corporal Flnley M. Smock
Fifth Iowa Volunteer Infantry
Fifth Iowa Volunteer Cavalry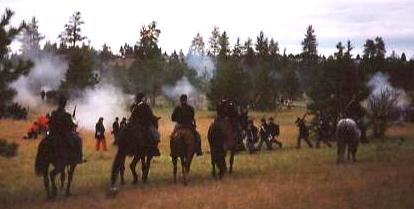 Finley Smock enlisted in Company F of the Fifth Iowa Volunteer Infantry on July 3, 1861. The following year, on June 16, he was promoted to Seventh Corporal. In October of the same year, he became the company's First Sergeant. On may 16, 1863, during the Battle of Champion Hills, Mississippi, he was "wounded in thigh severely." He returned to the regiment and reenlisted on January 5, 1864.
He transferred with him comrades into Company G of the Fifth Iowa Volunteer Cavalry Consolidated, so that he might the war through to its conclusion. He initially assumed duties as the Company Quartermaster Sergeant, being promoted to First Sergeant in his new regiment on March 1, 1865.
Following the war, he married Mary Stranahan and they were blessed with six children. He returned to his pre-war profession as a wagon maker. In 1882 he became Deputy Postmaster in Keota, Iowa. He also served as a Court Clerk and operated his own business. He died in 1922 and was buried in Keota Cemetery, in the city where he had lived so long.