Sergeant Charles Scofield
Fifth Iowa Volunteer Cavalry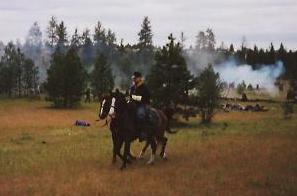 In 1856, Charles G. Scofield settled with his family in Iowa. He and his wife Matilda Frasier Scofield had seven children. However, her untimely death in 1860 resulted in Scofield's feeling free enough to sign up for the Curtis Horse when the call went out to preserve the Union. He was joined in this decision by two of his sons. The eldest, Sergeant William Scofield, is listed in the Official Roster as being twenty-two. The same document lists his father Charles' age as thirty-eight. It is possible Charles wished to be viewed as slightly younger than his true age. Roughly three years later, when he transferred to the Fifth Veteran Cavalry Consolidated, his age was more accurately related as "forty-five."
Due to his maturity, Scofield was quickly entrusted with a position of leadership in Company A. On September 1, 1862 he was promoted to Sixth Corporal. The following month he became Fourth Corporal. On July 1, 1863, Scofield was made the company's Sixth Sergeant. He held this rank until he mustered out on September 28, 1864 at the expiration of term of service. He left behind his sons William and Private Moses Scofield, who both reenlisted and survived the war.
The 1891 History of Harrison County Iowa says that on March 5, 1865 Scofield married a widow named Mary A. Richardson. Together they had five more children, and despite losing his vision in 1875, it can be assumed that his large family brought much joy to this proud veteran.