Captain Jerry Limbocker
Fifth Iowa Volunteer Cavalry
Fifth Iowa Volunteer Infantry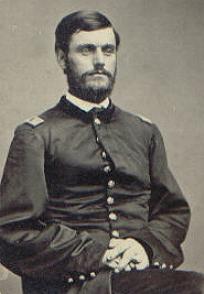 Jerry M. Limbocker was a twenty-two year old resident of Columbus City, Iowa when he enlisted on July 1, 1861 as Third Sergeant of Company C in the Fifth Iowa Infantry. On April 1, 1862, he became Sergeant Major of the regiment, a position of great responsibility which he left to accept a commission as a Second Lieutenant on June 29, 1862. He became a First Lieutenant on February 23, 1863. He was "wounded in hand and arm dangerously" on May 16, 1863 during the Battle of Champion Hills, Mississippi.
Limbocker reenlisted on February 3, 1864 for continuing service in the Fifth Iowa Cavalry. He joined Company G as its First Lieutenant. He was promoted to Captain on November 18, 1864. Although he was not mustered in the rank, he was promoted to Second Battalion Major on July 7. 1865. With the rest of the regiment, Limbocker was mustered out at Nashville, Tennessee on August 11, 1865.
The Fifth Iowa Cavalry site is deeply indebted to Michael Breeling for sharing the civil war image of Limbocker, for which he maintains the copyright.