Sergeant Andrew Henderson
Fifth Iowa Volunteer Infantry
Fifth Iowa Volunteer Cavalry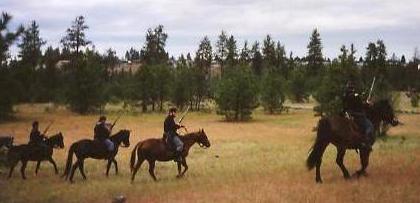 Andrew Henderson enlisted in the Fifth Iowa Volunteer Infantry at a mature age. Born on May 5, 1821 in Belmont, Ohio, he was forty when enlisted in Company C on July 1, 1861. His eldest son, Samuel Moore Henderson, was apparently still a resident of Ohio, as he enlisted in the Eleventh Ohio Cavalry. However, his second son, Private William Alexander Henderson apparently lived with his father, since both resided in Louisa County, and he enlisted in the same company as his father as soon as he turned eighteen.
Andrew's maturity certainly led to the fact that he was promoted to Fifth Sergeant on November 1, 1862. Promotions to Fourth Sergeant, Third Sergeant and Second Sergeant followed in rapid succession the following year. He reenlisted and remustered with many veterans of the regiment on January 5, 1864.
Henderson accompanied many of his friends into Company G of the Fifth Iowa Cavalry on August 8, 1864. Due presumably to the abundance of noncommissioned officers from the Fifth Iowa Infantry entering the two reconstituted companies of the Fifth Iowa Cavalry, he joined the new regiment as Company G's Sixth Sergeant. He served to the end of the war, mustering out on August l1, 1865 at Nashville, Tennessee.
His first marriage produced six children, including two civil war veterans. His second marriage, following the war, brought his two additional offspring. Henderson survived almost to the end of the century, dying on August 8, 1898 at Boonville, Missouri.