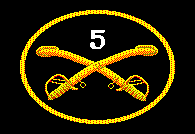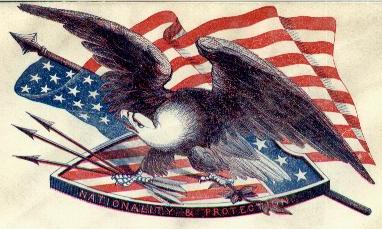 Military Ranks in the Fifth Iowa Cavalry
The structure of the Fifth Iowa Volunteer Cavalry followed the standard organization of Union cavalry regiments. The Fifth Iowa included a dozen companies (A through M, less J). The regiment was commanded by a colonel, with commissioned staff including a Lieutenant Colonel, three Majors (one for each of the regiment's battalions), and a regimental staff consisting of an Adjutant, a Quartermaster, a Commissary, Regimental Surgeon, an Assistant Surgeon, and a Chaplain. Noncommissioned regimental staff members included a Sergeant Major, a Quartermaster Sergeant., a Commissary Sergeant, one Saddler Sergeant, a Chief Farrier (or blacksmith), and two Hospital Stewards.
Each battalion was comprised of four companies. They were commanded by the aforementioned Majors. Each battalion was authorized its own Adjutant, Quartermaster, Quartermaster Sergeant, and Commissary Sergeant.
Each company (eighty to one hundred men) was commanded by a Captain, a First Lieutenant, and a Second Lieutenant. Their noncommissioned staff was comprised of a First Sergeant., Quartermaster Sergeant., and a Commissary Sergeant. Each company also possessed five additional Sergeants (Second Sergeant to Sixth Sergeant), eight Corporals (First Corporal to Eighth Corporal), two Teamsters, two Farriers, one Saddler, one Wagoner, and two Musicians.
The blending of the Fifth Iowa Volunteer Cavalry was made slightly more challenging by the fact that it combined a wide range of companies raised in four states, with the original intention of attaching them to units representing five distinct states.
---
©1998-2003 Fifth Iowa Regiments

---
Please direct html comments to the Scriptorum webmaster.