Private Timothy Barnum
Fifth Iowa Volunteer Cavalry
Fifth Iowa Volunteer Infantry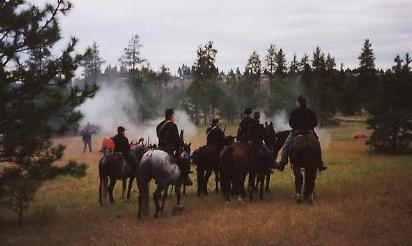 Timothy M. Barnum was twenty-one when he enlisted in Company D of the Fifth Iowa Volunteer Infantry. (His middle initial is incorrectly listed as "L," in the Official Roster.)
During his service with the Infantry, he spent some time in the hospital, due to illness. Barnum's 1887 pension claim attributed his disability to an illness of the "spine" which was contracted during the Fifth Iowa Infantry's service at Bridgeport, Alabama in 1863. Still, he was healthy enough to reenlist when the regiment completed its three year service commitment.
With most of the rest of his comrades who elected to continue their military service, he joined the Fifth Iowa Cavalry Consolidated in August of 1864. He served with this mounted regiment until the war's end, mustering out on August 11, 1865 at Nashville, Tennessee. During the final year of the war, from February through April, he served on detached duty as an orderly at General Johnson's headquarters.
We are grateful to Private Barnum's great grand niece, Christy Barnum, for information related above.