Private James Baldwin
Fifth Iowa Volunteer Cavalry
Fifth Iowa Volunteer Infantry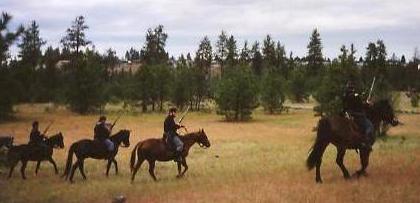 James H. Baldwin was one of those gallant troops who served in both the Fifth Iowa Infantry and the Fifth Iowa Cavalry. He was born on January 20, 1842 in Crawford County, Pennsylvania. At the age of nineteen, he enlisted in Company G of the infantry regiment. He served with his comrades for the duration of the unit's noteworthy history. At the time of his enlistment, Baldwin listed his occupation as "blacksmith."
Baldwin joined most of his fellow soldiers in reenlisting to see the war to its end. He transferred to Company I of the cavalry regiment on August 8, 1864. However, the Official Roster includes a mystery about the conclusion of his service. It records that he "deserted" on March 15, 1865 at Gravelly Springs, Alabama.
He married and had several children. Following the war, James found employment as a farmer and later a stone mason. He was later divorced, and eventually found it necessary to reside in the Iowa Soldiers' (Veterans) Home. A letter from the Board of Control of State Institutions accompanying his application to the Home clearly reveals that he was no deserter. It says, "while the code provides that none other will be admitted into the Soldiers' Home but honorably discharged Union soldiers, the writer believes that this old veteran is entitled to the benefits of the Home, as he must have been honorably discharged to all intents and purposes before he reenlisted, and surely the United States government and the State of Iowa owes it to this old veteran to give him a home in the last few years of his life."
James came from patriotic stock, and his father Joseph enlisted in the Fortieth Iowa Infantry at the mature age of forty-four. He served for slightly less than a year, being "discharged 21 July, 1863 for disability" while the regiment in Mississippi. Joseph lived until 1875, when he drew his last breath in Clay County, Kansas.
In 1914, James had an operation to repair a rupture. Due to complications of the surgery, he died two weeks after his surgery, never having left the hospital. His obituary, in the April 20, 1914 issue of the Atchison Daily Globe, says:
James Baldwin, an estimable Civil war veteran, died last night at the St. Francis hospital. Mr. Baldwin was brought to Atchison by his relatives several months ago from the Soldiers' home in Iowa. He has been staying the home of his cousin, Mrs. D. (David) R. Jones, at 122 L Street, until the last two weeks, when he was taken to the hospital. He was 72 years of age. His three children in Atchison are Marion Baldwin, Luther Baldwin and Miss Cora Baldwin.
We are grateful to Doris Baldwin and Rick Ender for providing the details about Private Baldwin's life which appear above.