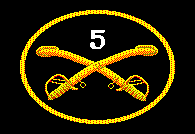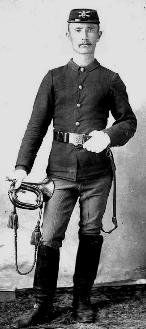 Fifth Iowa Cavalry Musicians
Music has played an important role in United States history. Similarly, music has been connected with the military, since the beginnings of recorded history. Thus it is natural that the regiments gathering to the Union and Confederate banners would desire to create bands of their own. The Fifth Iowa Cavalry was no different. These bands would play for parades, reviews, formations and provide entertainment for their comrades during evening concerts. Curiously, in the Union army, artillery and infantry regiments were authorized a twenty-four member band while cavalry regiments were limited to sixteen members.
Unfortunately, the number of men dedicated to "optional" function grew burdensome to the military, and in 1862 the Union War Department elected to dismiss all brass ensembles that belonged to volunteer regiments. (Victims of their own success, by the end of 1861, the Union Army had 618 bands and more than 28,000 musicians.) Cost was also a factor, and in response to a January 1862 Congressional inquiry, the Secretary of War determined that the annual cost of a cavalry band was $9,161.30 ($4,000 less than its infantry counterpart).
Brigade bands were authorized by the War Department to replace the ministrations of the dismissed regimental bands. This transfer of the troopers back to their original companies took place on June 12, 1862 in the Fifth Iowa Cavalry. Apparently, William Thayer, who had originally enlisted as the Band Leader, was not completely content with his transfer to Company A. Within eight months, he was discharged from the regiment to allow for his to the Military Telegraphic Corps.
While infantry regiments had drummers--and frequently fifers--cavalry regiments had buglers. It is said that cavalry troopers became so familiar with their own bugler that on the battlefield they could often distinguish his calls from those of other buglers. While buglers were integral to combat, not all bandsmen were combatants, and our present research does not make clear whether or not the Fifth Iowa's participated in battle. Since the buglers were musicians themselves, it was natural for them to be recruited into the ranks of the band. Six Fifth Iowa buglers made that very transition: Joseph Bendler, Charles Handt, Francis Hoffman, Almon Norris, George Reifenstohl and Lorenzo Roe. The full roster of Fifth Iowa Volunteer Cavalry buglers precedes the list of their regimental band members.
Fifth Iowa Cavalry Buglers
Chief Bugler
Hensman, Joseph
Age 38. Residence Omaha, Nebraska, nativity England
Enlisted September 21, 1861, as Bugler. Mustered September 21, 1861
Promoted Chief Bugler January 9, 1862
Hensman, Joseph (Veteran.) Age 36. Residence Omaha, Neb., nativity England
Transferred from Fifth Cavalry as Chief Bugler, August 8, 1864
Mustered out August 11, 1865, Nashville, Tennessee
Company A
Handt, Charles (Veteran)
Age 26. Residence Rockport, Missouri, nativity Germany
Enlisted August 29, 1861, as Bugler. Mustered August 29, 1861
Promoted to Regimental Band
Returned to Company May 18, 1862
Reenlisted and remustered January 14, 1864
Deserted while on Veteran furlough, February 5, 1864

Harris, Franklin M. (Veteran)
Age 23. Residence Omaha, Nebraska, nativity Wisconsin
Enlisted August 29, 1861, as Bugler. Mustered Aug. 29, 1861
Promoted Seventh Corporal September 1, 1862
Promoted Fifth Corporal October 15, 1862
Promoted First Corporal July 1, 1863
Reenlisted and remustered January 14, 1864
Transferred to Company A, Fifth Veteran Cavalry Consolidated, August 8, 1864
Company B
Hensman, Joseph
Enlisted September 21, 1861, as Bugler
Promoted Chief Bugler January 9, 1862
See full entry above
Company C
Davidson, William A. (Veteran)
Age 23. Residence Peru, Nebraska, nativity Indiana
Enlisted September 7, 1861, as Bugler. Mustered September 19, 1861
Reenlisted and remustered Jan. 14, 1864
Transferred to Company C, Fifth Veteran Cavalry Consolidated, August 8, 1864
Davidson, William A. (Veteran)
Age 23. Residence Peru, Nebraska, nativity Indiana
Transferred from Company C, Fifth Cavalry, August 8, 1864
Mustered out August 11, 1865, Nashville, Tennessee

Norris, Almon N.
Age 18. Residence Nemaha County, Nebraska, nativity Pennsylvania
Enlisted September 7, 1861, as Bugler. Mustered September 19, 1861
Transferred to Regimental Band
Returned to Company June 12, 1862
Killed in action October 2, 1862, Lafayette, Tennessee
Buried in Cumberland River National Cemetery, Fort Donelson, Tennessee
Section B, grave 34

Roe, Lorenzo P. (Veteran)
Age 24. Residence Brownville, Nebraska, nativity New York
Enlisted September 7, 1861, as Bugler. Mustered September 19, 1861
Promoted to Regimental Band
Returned to Company June 12, 1862
Reenlisted and remustered January 14, 1864
Transferred to Company C, Fifth Veteran Cavalry Consolidated, August 8, 1864
Roe, Lorenzo P. (Veteran)
Age 24. Residence Brownsville, Nebraska, nativity New York
Discharged for disability July 4, 1865, Nashville, Tennessee

Runyan, Washington L. (Veteran)
Age 28. Residence Atchison County, Missouri, nativity Pennsylvania
Enlisted September 30, 1861, as Bugler. Mustered October 3, 1861
Reenlisted and remustered January 14, 1864
Transferred to Company C, Fifth Veteran Cavalry Consolidated, August 8, 1864
Company E
Reifenstohl (Rifenstohl), George
Age 29. Residence Dubuque, Iowa, nativity Germany
Enlisted August 22, 1861, as Bugler. Mustered Oct. 7, 1861
Promoted to Regimental Band
Returned to Company June 12, 1862
Transferred to Marine Corps January 20, 1863, St Louis, Missouri
Company F
Bendler, Joseph
Age 22. Residence Fort Madison, Iowa, nativity Germany
Enlisted September 23, 1861, as Bugler. Mustered October 25, 1861
Promoted to Regimental Band as First Class Musician
Returned to Company June 12, 1862
Transferred to Company F, Fifth Veteran Cavalry Consolidated, August 8, 1864
Bendler, Joseph
Age 22. Residence Fort Madison, Iowa, nativity Germany
Discharged October 25, 1864, Nashville, Tennessee, expiration of term of service

Seidel, John
Age 44. Residence Ft Madison, Iowa, nativity Germany
Enlisted September 6, 1861, as Bugler. Mustered October 25, 1861
Taken prisoner May 5, 1862, Lockridge's Mill, Tennessee
Returned to Company June 10, 1862
Discharged for disability Sept. 25, 1862, St. Louis, Missouri
Company G
Bade, Nicholas
Age 43. Residence Bloomington, Minnesota, nativity Germany
Enlisted October 7, 1861, as Bugler. Mustered October 10, 1861
Promoted Chief Bugler August 5, 1862
Bade, Nicholas
Age 43. Residence Bloomington, Minnesota, nativity Germany
Promoted Regimental Bugler from Bugler of Company G, August 5, 1862
Mustered out November 15, 1862, Fort Heiman, Kentucky

Bryan, Oscar D.
Age 18. Residence Buchanan County, Iowa, nativity Ohio
Enlisted in Fifth Iowa Infantry February 29, 1864. Mustered February 29, 1864
Bryan, Oscar D.
Age 18. Residence Buchanan County, Iowa, nativity Ohio
Transferred from Company E, Fifth Infantry, as Bugler, Aug. 8 1864
Mustered out August 11, 1865, Nashville, Tennessee

Earl, James B.
Age 18. Residence Louisa Center, Iowa, nativity Pennsylvania
Enlisted in Fifth Iowa Infantry July 30, 1863. Mustered July 30, 1863
Promoted Musician
Earle, James B.
Age 18. Residence Louisa County, Iowa, nativity Pennsylvania
Enlisted July 30, 1863. Mustered July 30, 1863
Transferred from Company C, Fifth Infantry, as Bugler, Aug. 8, 1864
Mustered out August 11, 1865, Nashville, Tennessee
Company H
Stillwell, Russell B. (Veteran)
Age 22. Residence Fort Calhoun, Nebraska, nativity Canada
Enlisted in Company B, September 17, 1861. Mustered September 21, 1861
Transferred to Company H, January 1, 1862
Promoted Bugler January 1, 1864
Reenlisted and remustered January 1, 1864
Transferred to Company L, Fifth Veteran Cavalry Consolidated, August 8, 1864
Stillwell, Russell B. (Veteran)
Age 22. Residence Bellevue, Iowa, nativity Canada
Mustered out August 11, 1865, Nashville, Tennessee
Company I
Clark, Merrill M.
Age 18. Residence Garden City, Minnesota, nativity Vermont
Enlisted November 1, 1861 as Bugler. Mustered November 1 1861
Transferred to Minnesota February 25, 1864

McCartney, Bartholomew
Age 27. Residence Jackson County, Minnesota, nativity Ireland
Enlisted October 23, 1861, as Bugler. Mustered November 1, 1861
Transferred to Minnesota February 25, 1864
Company K
Hoffman, Francis
Age 31. Residence St Paul, Minnesota, nativity France
Mustered November 1, 1861
Promoted Bugler
Promoted to Regimental Band
Returned to company June 12, 1862
Discharged for disability August 20, 1862, Fort Snelling, Minnesota
Company L
Stillwell, Russell B. (Veteran)
Transferred from Company H, August 8, 1864
See full entry above
Company M
Perkins, William D.
Age 18. Residence Bailey's Creek, Missouri, nativity Missouri
Enlisted November 22, 1861, as Bugler
Mustered November 22, 1861
Discharged for disability March 3, 1862, St Louis, Missouri
Fifth Iowa Cavalry Regimental Band
Band Leader
Thayer, William A
Age 22. Residence New York, nativity New York
Enlisted August 29, 1861 as Band Leader. Mustered August 29, 1861
Transferred to Company A, May 18, 1862
Discharged for promotion to Military Telegraphic Corps
on January 27, 1863 at Fort Donelson, Tennessee

Bendler, Joseph
Age 22. Residence Fort Madison, Iowa, nativity Germany
Enlisted September 23, 1861, as Bugler. Mustered October 25, 1861
Promoted to Regimental Band as First Class Musician
Returned to Company F on June 12, 1862
Transferred to Company F, Fifth Veteran Cavalry Consolidated, August 8, 1864
Bendler, Joseph
Age 22. Residence Fort Madison, Iowa, nativity Germany
Discharged October 25, 1864, Nashville, Tennessee, expiration of term of service

Fischer (or Fisher), Christian (Veteran)
Age 25. Residence Davenport, Iowa, nativity Germany
Enlisted September 23, 1861. Mustered October 25, 1861
Promoted to Regimental Band as First Class Musician
Returned to Company F on June 12, 1862
Reenlisted and remustered January 14, 1864
Transferred to Company F, Fifth Veteran Cavalry Consolidated on August 8, 1864
Fischer, Christian (Veteran)
Age 25. Residence Davenport, Iowa, nativity Germany
Mustered out August 11, 1865, Nashville, Tennessee

Handt, Charles (Veteran)
Age 26. Residence Rockport, Missouri, nativity Germany
Enlisted August 29, 1861, as Bugler. Mustered August 29, 1861
Promoted to Regimental Band as First Class Musician
Returned to Company A on May 18, 1862
Reenlisted and remustered January 14, 1864
Deserted while on Veteran furlough, February 5, 1864

Hecht, Henry (Veteran)
Age 31. Residence Hastings, Minnesota, nativity Switzerland
Enlisted October 20, 1861
Promoted to Regimental Band as First Class Musician
Returned to Company G on May 18, 1862
Reenlisted and remustered January 1, 1864
Transferred to Minnesota February 25, 1864
Company K
Hoffman, Francis
Age 31. Residence St Paul, Minnesota, nativity France
Mustered November 1, 1861
Promoted Bugler
Promoted to Regimental Band as First Class Musician
Returned to Company G on June 12, 1862
Discharged for disability August 20, 1862, Fort Snelling, Minnesota

Kummer, Henry C.
Age 30. Residence Keokuk, Iowa, nativity Hanover, Germany
Enlisted in First Iowa Infantry April 23, 1861. Mustered May 14, 1861
Mustered out August 21, 1861
Kummer, Charles Henry
Age 30. Residence Keokuk, nativity Germany
Enlisted September 12, 1861, as Second Corporal. Mustered October 25, 1861
Transferred to Regimental Band as First Class Musician January 21, 1862
Returned to Company June 12, 1862
Transferred to Company F. Fifth Veteran Cavalry Consolidated, August 8, 1864
Kummer Charles Henry Age 30. Residence Keokuk, Iowa, nativity Germany
Mustered out October 25, 1864, Nashville, Tennessee

Morgan, William J.
Age 24. Residence Dubuque, Iowa, nativity Pennsylvania
Enlisted August 25, 1861, as First Corporal. Mustered October 7, 1861
Promoted to Regimental Band as First Class Musician
Returned to Company E on June 12, 1862
Promoted Fourth Sergeant January 1, 1863
Promoted Company Commissary Sergeant August 1, 1863
Transferred to Company E, Fifth Veteran Cavalry Consolidated, August 8, 1864
Morgan, William J.
Age 24. Residence Dubuque, Iowa, nativity Pennsylvania
Mustered out October 25, 1864, Nashville, Tennessee

Norris, Almon N.
Age 18. Residence Nemaha County, Nebraska, nativity Pennsylvania
Enlisted September 7, 1861, as Bugler. Mustered September 19, 1861
Transferred to Regimental Band as First Class Musician
Returned to Company C on June 12, 1862
Killed in action October 2, 1862, Lafayette, Tennessee
Buried in Cumberland River National Cemetery, Fort Donelson, Tennessee
Section B, grave 34

Raska, Matthias (Veteran)
Age 22. Residence Mankato, Minnesota, nativity Germany
Enlisted October 5, 1861. Mustered October 10, 1861
Promoted to Regimental Band as Second Class Musician
Returned to Company G on May 18, 1862
Reenlisted and remustered January 1, 1864
Transferred to Minnesota February 25, 1864

Richards, Philip Corey
Age 21. Residence Peru, Nebraska, nativity Virginia
Enlisted September 7, 1861, as Fourth Corporal. Mustered September 19, 1861
Promoted Third Corporal January 1, 1862
Transferred to Regimental Band as Second Class Musician January 16, 1862
Returned to Company C on July 22, 1862
Promoted Company Quartermaster Sergeant February 1, 1863
Transferred to Company C, Fifth Veteran Cavalry Consolidated, August 8, 1864
Richards, Philip Corey
Age 21. Residence Peru, Nebraska, nativity Virginia
Transferred from Company C, Fifth Cavalry, August 8, 1864
Discharged October 4, 1864, Madison, Indiana, expiration of term of service

Reifenstohl (Rifenstohl), George
Age 29. Residence Dubuque, Iowa, nativity Germany
Enlisted August 22, 1861, as Bugler. Mustered Oct. 7, 1861
Promoted to Regimental Band as Second Class Musician
Returned to Company E on June 12, 1862
Transferred to Marine Corps January 20, 1863, St Louis, Missouri

Roe, Lorenzo P. (Veteran)
Age 24. Residence Brownville, Nebraska, nativity New York
Enlisted September 7, 1861, as Bugler. Mustered September 19, 1861
Promoted to Regimental Band as Second Class Musician
Returned to Company C on June 12, 1862
Reenlisted and remustered January 14, 1864
Transferred to Company C, Fifth Veteran Cavalry Consolidated, August 8, 1864
Roe, Lorenzo P. (Veteran)
Age 24. Residence Brownsville, Nebraska, nativity New York
Discharged for disability July 4, 1865, Nashville, Tennessee

Sperry, James A.
Age 30. Residence Winterset, Iowa, nativity New York
Enlisted October 15, 1861. Mustered November 13, 1861
Promoted to Regimental Band as Second Class Musician
Returned to Company D on March 1, 1862
Transferred to Company D, Fifth Veteran Cavalry Consolidated, August 8, 1864
Sperry, James A.
Age 30. Residence Winterset, Iowa, nativity New York
Discharged November 21, 1864, Nashville, Tennessee, expiration of term of service

Ulrich, C. August (Veteran)
Age 29. Residence Keokuk, Iowa, nativity Germany
Enlisted September 23, 1861. Mustered October 25, 1861
Promoted to Regimental Band as Second Class Musician March 6, 1862
Returned to Company F on June 12, 1862
Reenlisted and remustered January 14, 1864
Transferred to Company F, Fifth Veteran Cavalry Consolidated, August 8, 1864
Ulrich, C. August (Veteran)
Age 29. Residence Keokuk, Iowa, nativity Germany
Transferred from Company F, Fifth Cavalry, August 8, 1864
Mustered out August 11, 1865, Nashville, Tennessee

Dudley, Henry O. (Veteran)
Age 20. Residence Fort Madison, Iowa, nativity New Hampshire
Enlisted September 21, 1861. Mustered October 25, 1861
Transferred to Regimental Band as Third Class Musician
Returned to Company June 12, 1862
Reenlisted and remustered January 14, 1864
Promoted Saddler Sergeant June 25, 1864
Transferred to Field and Staff, Fifth Veteran Cavalry Consolidated, August 8, 1864
Dudley, Henry O. (Veteran)
Age 20. Residence Fort Madison, Iowa, nativity New Hampshire
Mustered out August 11, 1865, Nashville, Tennessee

Franzke, Charles (Veteran)
Age 25. Residence Davenport, Iowa, nativity Germany
Enlisted September 18, 1861. Mustered October 25, 1861
Transferred to Regimental Band as Third Class Musician
Returned to Company F on June 12, 1862
Reenlisted and remustered January 14, 1864
Taken prisoner July 31, 1864, Newnan. Georgia
Transferred to Company F, Fifth Veteran Cavalry Consolidated, August 8, 1864
Franzke, Charles (Veteran)
Age 25. Residence Davenport, Iowa, nativity Germany
Mustered out July 15, 1865, Clinton, Iowa
---