Private John Tompkins
Fifth Iowa Volunteer Infanty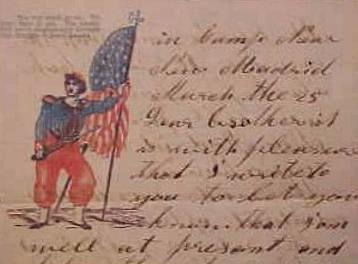 Private John Tompkins was nineteen when he enlisted in Company C of the Fifth Iowa Infantry on July 1, 1861. Born in Pennsylvania, he resided in Oakland, Iowa when the war broke out.
Unfortunately, Tompkins did not survive the war. He did not live long enough to join his companions in transferring to the Fifth Iowa Cavalry Consolidated. The cause of his death on December 7, 1863 is not recorded in the Official Roster. He was buried at Jefferson Barracks in St Louis, Missouri.
Although Tompkins did not survive the war, some of his correspondence did. The following letter comes from a private collection. It was written to his brother during the siege of New Madrid, Missouri. The Fifth Iowa Infantry performed heroically during the campaign at New Madrid and the capture of Island Number Ten. Tompkins' letter provides an interesting glimpse into this phase of the war from the perspective of one of the regiment's privates.
In camp near New Madrid
March the 25
Dear brother it is with pleasure that I write to you to let you know that I am well at present and hope these pen lines will reach and find you in good health. I received a letter from you the other day and was glad to hear from you. We've had some pretty hard times since I wrote before. After we left Barnville we had a hard march to St Charles we took the cars for St Louis took about [?]. We left for New Madrid where we now are. The roads was mudy and rained after the rebels fell trees across the road and every thing that could do to hinder our progress but we catch Jeff Tomson took six piece of artilery and some prisoners and ran him in to New Madrid. It is no use for me to try to tell you any thing about the fight… of New Madrid. The rebels destroyed the town… Nothing more but remain your brother John Tomkins. We have been in several scirmishes and was in the fight at New Madrid.