Private John Still
Fifth Iowa Volunteer Infanty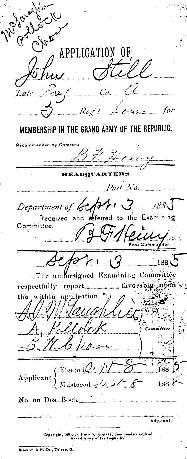 John Still enlisted on August 11, 1862 in Company H of the Fifth Iowa Infantry. He was eighteen at the time, a resident of Birmingham, Iowa, who had been born in New York. He served honorably for the whole of his enlistment, being mustered out in August of 1864, at the expiration of his term of service. Thus ends the whole of the information about this soldier included in the Official Roster.
However, we have access to some additional information about Still, which was recorded on his application for membership in the Grand Army of the Republic. This document reveals some interesting, and contradictory, facts. On September 3, 1885, Still applied for membership in the Corporal Dix Post of the GAR in Missouri. He was elected and mustered into the GAR on September 8, 1885.
His application (completed by him personally, and thus more reliable in matters such as his birthplace) states that he was forty-five at the time of the application and had been born in Bennington, Vermont. He was residing at Kirkville, Missouri, and listed his occupation as an engineer. Finally, it specifies that he was mustered out of the army on August 5, 1864 at Chattanooga, Tennessee.
Additional information on the form includes the name of the Post Commander who sponsored him, Heiny, and the three men on his Examining Committee, McLaughlin, Pollock, Chase. The Fifth Iowa regimental website also has obtained an application form for Corporal Charles Rothe of the Fifth Iowa Cavalry.
Thank you to Elaine Doak, Special Collections Librarian at Truman State University in Kirksville, Missouri for the image of Still's GAR application.