Corporal Seymour Shryock
Fifth Iowa Volunteer Infantry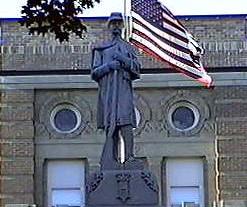 Seymour Shryock was born in Hamilton, Indiana on July 6, 1840. He was a resident of Earlville, Iowa when he enlisted on July 15, 1861 in Company K of the Fifth Iowa Infantry. He served beside his comrades in their bloodiest battles, at Springfield, Iuka, Champion Hill, Black River, Vicksburg, Chattanooga, and Missionary Ridge. On September 19, 1862, during the Battle of Iuka, he was severely wounded by gunshot to the groin.
Shryock recovered from this terrible injury, and was promoted to Fourth Corporal on July 26, 1863. The following day he was promoted to Third Corporal of Company K. He served in that position of responsibility for the remainder of the regiment's existence. At the end of his enlistment, he was discharged on July 30, 1864 at Chattanooga, Tennessee.
Following the war, according to the 1909 publication, Old Soldiers Who Have lived in O'Brien County, Iowa, he wedded Mary in 1869 and they had five children: Alfred, M. Belle, B. Roscoe, Ira and Josie. They settled in 1871, on "northwest 1/4 section 8, Floyd Township" in O'Brien County, Iowa. At the time of the book's publication, however, they resided in Aberdeen, South Dakota.