Private Henry Christopher Payton
Fifth Iowa Volunteer Infantry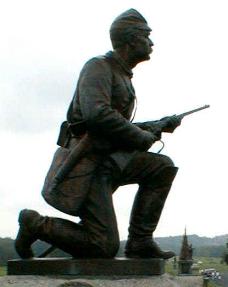 Henry Payton was born in Johnson County, Indiana in October of 1839. He would survive into the next century, dying on February 26, 1905 in Hampton, Nebraska.
The day prior to Independence Day in 1861, Henry enlisted at Burlington, Iowa for three years in Company F of the Fifth Iowa Infantry. He was mustered two weeks later at the age of twenty-one, listing his residence as Keokuk, Iowa. Like the majority of his fellow soldiers, Henry listed his occupation as farmer.
During the fall of 1862, Henry was detailed as a teamster to General Buford's headquarters. During this period he was severely injured on October 3, at Corinth, Mississippi. While hauling forage with a six mule team, his saddle mule got frightened and fell on Henry's left leg, dislocating his knee. Surgeons examining him at the time, determined that he would not be fit for further combat duty. Their report cited: "subacute inflamation of the tendons and ligaments of the left knee joint caused by an accident which dislocated the joint... I think he will not be fit for duty during the term of his enlistment but will probably recover."
Testimony from fellow soldier Harding (Hartwig) Voss, who was later discharged after being wounded, reveals that Payton suffered from another common ailment of Civil War soldiers, diarrhea. As a consequence of the illness, which became chronic, he grew thin and became unable to perform manual labor.
Amazingly, although Payton's injury was serious enough to cause his discharge from the infantry, officials neglected to get word back to the regiment that his service had honorably ended! A list of deserters reported on September 30, 1863 from Corinth, Mississippi, included the following entry about poor young Henry:
This soldier was a brig[ade] teamster and was injured by the fall of a mule. He entered a hospital so far as I can learn. I have information from his residence in Keokuk Co. Iowa that he was there in Dec. 1862 and that he went to the state of California in the spring of 1863. He drew some clothes from the brig[ade] QM and received pay for the extra duty, but how much of either I am unable to state. The information above came to my knowledge in the summer of 1863 but the soldier has been kept on the rolls for the purpose of getting information from Corinth, Miss where he had been left in Nov. 1862.
Fortunately, the matter was clarified when a note was added later to the effect that he had been discharged for disability on December 16, 1862, in Cairo, Illinois. An 1872 affidavit from Company F's lieutenant, Frank McCoy, verifies that he was discharged due to the injury.

Despite his injury, for which he eventually received a pension, Payton lived a long and rewarding life.

The Fifth Iowa Volunteer Infantry site is grateful to Payton's great-great-grandson, Ronald Greek Jr, for providing this biographical information.