Private Henry Morris
Fifth Iowa Volunteer Infanty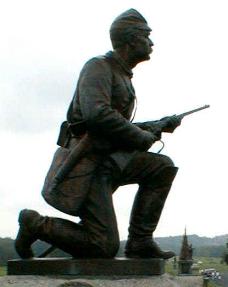 Henry F. Morris was a twenty-one year old resident of Winchester, Iowa when he enlisted in Company H of the Fifth Iowa Infantry on June 24, 1861. He was born in Kentucky. The Official Roster says nothing else about him other than that he was discharged on October 2, 1862. For what follows, we are indebted to one of his descendants.
Henry Thompson Morris was born on March 16, 1837 in Harlan County, Kentucky. The pension records clarify his middle name. He moved with his parents to the Iowa Territory in 1838 to what would become Cedar Township in Van Buren County. When he received certification of disability, the document stated:
'"Private Henry T. Morris of Captain Joel Brown's Company H, of the Fifth Regiment of the United States Iowa Volunteer Infantry, was enlisted by J.W. Shaw… on July 17, 1861 to serve three years… During the last two months said soldier has been unfit for duty 60 days. Said soldier was taken sick a few days after the Battle of Shiloh with Typhoid Fever, since which he has had chronic diarrhoea and a cough totally disqualifying him for duty.
Jas. D. Strawbridge
Surg of Vol in Charge of Hospital
General Hospital, Jackson, Tenn, October 1, 1862
John A. Logan
Brg Genl Commanding the Post
Following his discharge, he returned to Van Buren County, where he married Sally Ann Spencer on January 28, 1864. The couple had eight sons: Sherman, Frank, Charles, John, Arthur, William, Pitkin and Elmer. Except for his service in the war, he lived and farmed in his home county. He died on May 27, 1909 and was buried in the Spencer Cemetery near Stockport, next to his beloved wife who had preceded him in death six years earlier.
Thank you to Jack Morris Lanam, the proud great-grandson of Private Morris, for the information about his ancestor's life.