Corporal William Morden
Fifth Iowa Volunteer Infanty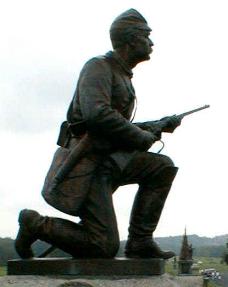 William C. Morden was lived his entire life in the state of Iowa--apart from his service in two of the state's regiments during the civil war. At the age of twenty, he enlisted as the First Corporal of Company I of the Fifth Iowa Infantry. During his time with the regiment, he was "wounded in leg and breast" on September 19, 1862 at the Battle of Iuka, Mississippi.
Subsequently, in an action that was not particularly rare, he was "reduced to ranks at his own request." In other words, he chose to relinquish the responsibilities of being a noncommissioned officer, becoming a private. On February 23, 1863 at Nashville, he was discharged from the regiment due to disability.
Fortunately, he must have recovered from his wounds. His former disability did not prevent the twenty-three year old veteran from reenlisting in September of 1864. He served to the conclusion of the hostilities in Company E of the Second Iowa Cavalry, mustering out on June 17, 1865, at Eastport, Mississippi.
The following biography from the Jackson County Sentinel reveals other things about his life, including his civic contributions to his community.
EX-MAYOR MORDEN PASSES AWAY
AFTER ILLNESS OF SEVERAL WEEKS

Born in Jackson County Over 80 Years Ago.
Held Various Offices in City and County.
Funeral Will Be Held This Friday Afternoon.

After an illness of several weeks during which time he displayed that ever present determination to over come obstacles, Ex-Mayor William C. Morden passed away at his home in the First Ward Wednesday forenoon at ten o'clock. In the death of Mr. MORDEN, Jackson County loses perhaps it's oldest native-born citizen, and one whose loyalty to the county of his birth stood out very conspicuously all through life. He was a man whose early life had been spent among the earliest pioneers of this community, he shared as a boy the privations and hardships incidental to early-day life. Iowa was not yet a state when he first romped thru the woods and wilds of Farmers Creek township, and right here we reprint in part a short chapter in an autobiographical sketch written for the Sentinel souvenir edition some years ago, which ably describes the scenes of Mr. Morden's boyhood days:

William C. Morden, the subject of this sketch, was born in what is now Farmers Creek township, Jackson County, Iowa, February 28, 1841. His parents having emigrated from the state of Ohio in the year 1836, locating about one mile north of the village of Fulton. He is, therefore, one among the few of his age that can truthfully claim Jackson county as his birthplace.

Although being numbered with the early settlers, we have no exciting stories to relate of hardships endured during our backwoods life; no hair breadth escapes from the red man's tomahawk; no blood curdling encounters with wild beasts of the big woods; no Indian scalps; no lion, or catamount teeth, or elephant tusks laid up in our museum on ancient relics to remind us of the deadly strife and harrowing scenes of pioneer life. For a full description of the more startling incidents, we refer the reader to other more qualified writers.

Many changes have taken place within the writer's memory. Well we remember those good old days of simplicity, when the latch string of the home cabin door always hung out as a sign of welcome, bidding neighbor, and wayfarer to enter and partake of the hospitality within. Although all of fare was frugal... it was always wholesome...

Memory takes us back to the [...] so long past when we used to gather of long winter evenings around the rude fireplace filled with blazing logs that only cost the trouble of cutting. It almost brings tears to our eyes to think of those good times, and then be compelled to pay six dollars a cord for the same kind of wood and short measures at that.

Looking back to the good old times of fifty or more years ago, and thinking of the contrast between then and now, causes a lingering desire to be young again, and live over the life so joyous and free, when there was no trouble, no house cleanings, no doctors, no lawyers, therefore no sickness or lawsuits, no fine clothes and stand up collars to make one feel awkward and out of place. Verily, boyhood days in the 40's and 50's were one continuous round of joy. In those happy days when we were boys and girls together, when your neighbor was as good as yourself, although miles separated each family, 'they were neighbors still.'

In those days long to be remembered when everybody was level headed, when we went twenty miles to mill on horseback with the grist in one end of the bag and a store in the other, and one soup bone did duty for the whole neighborhood. Alas! changed are the conditions in this advanced age of civilization, when your nearest neighbor is often a comparative stranger. How well we remember the old log school house wherein, as a freckled faced barefooted lad, we spent our college days; the puncheon floor and chimney built of sticks; the seats made of basswood logs split in halves, with the soft side up; the hickory switches, and the dunce block on which the writer spent his share of the time; the log rollings and house raising with the old fashioned dance at night where we tripped the light fantastic toe until broad day light, and went home with the girls in the morning for breakfast; the husking bees; the red ears of corn, and the pleasures that followed; the pretty damsels with rosy cheeks, painted only by nature's artist, all of which makes us wish for the days of youth and good old times of yore.

At 20 years of age, he enlisted in Co. I, 5th Iowa Vol. Infantry as First Corporal, July 15, 1861; was wounded in leg and breast September 19, 1862, at Lake Luka, Miss. Was discharged for disability February 23, 1863. Enlisted again September 27, 1864, in Co. 2nd, Iowa Cavalry and served to the end of the war.

In the year 1867 Mr. Morden was united in marriage to Miss Alice McDonald, and to this union were born four children, three of whom with the faithful wife survive and mourn the loss of a devoted husband and father. The children are Mrs. Lillian Barrett of Twin Falls, Idaho; Miss Edith at home and Mrs. Florence Hackett of Lewistown, Mont.

Mr. Morden was an honored member of the Masonic and Odd Fellows Orders and A.W. Drips Post, G.A.R., and in his younger days was very active in fraternal circles. He had held numerous township offices; served on the board of supervisors and was for years the postmaster at Fulton, his native town. Some twenty-nine years ago Mr. Morden and family removed from Fulton to Maquoketa where he engaged the general merchandise business, retiring from same about two years ago. He was elected mayor of this city with in 1917, serving with honor for two terms. A true patriot in every sense, Mr. Morden served his country, community and city well and in his death we have lost one of those sturdy citizens whose interests were ever centered in the common welfare of his fellowmen.

The funeral will be held from the home, this Friday afternoon at four o'clock, Rev. D.F. Boomershine officiating. Interment will be made in Mt. Hope Cemetery.