Corporal Henry T. McNeil
Fifth Iowa Volunteer Infanty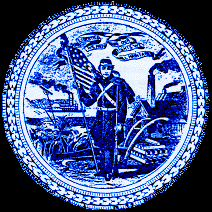 The story of Corporal Henry McNeil's military service--and his life itself--is all too brief. Sadly, he was one of the many soldiers whose life was stolen by illness. Born in Indiana, McNeil's residence was in South English when he enlisted on July 3, 1861 in Company F in the Fifth Iowa Infantry.
Slightly older than his comrades, twenty-two when he enlisted, his maturity is the likely reason that he began his service as the Fourth Corporal in his company. David McNeil, two years his junior (but also born in Indiana and hailing from South English) was his cousin. It was common for relatives to enlist in the same company, on the same date... although many did indeed end up serving in completely different regiments during the course of the war.
While his cousin served through the duration of the war, transferring with many Fifth Iowa Infantry members into the Fifth Iowa Cavalry at the close of their initial enlistment, Henry would not be so fortunate. He contracted typhoid fever and died on December 9, 1861, at Syracuse, Missouri. Fortunately at least one piece of correspondence from this young soldier has survived. Although it basically describes the rather mundane matters of a march toward battle, it does reveal the optimistic enthusiasm characteristic of the war, as he writes: "We are after Gen Price but it is not likely that we will catch him very soon as he is retreating from us. It is reported that he is near Springfield but I do not know whether there is any truth in the report or not. There is about 50,000 of us after him and I think we will make short work of it when we do catch him..."
McNeal's letter to his sister (Louisa McNeal DeGarmo) also mentions in passing several of his regimental comrades, including Corporal Cornelius Morgan (possibly Carlos C. Morgan of Company K), Private Sylvester (Abe) Allen (who did not survive the war), Private Marion Ingram, Private Harrison Thomas (who later died due to the measles), and Private Eli Cross.