Private John McCray
Fifth Iowa Volunteer Infantry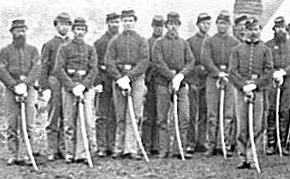 John McCray was an enthusiastic recruit when he enlisted in Company E of the Fifth Iowa Infantry at the age of twenty-three. He served little more than a year when he found himself standing on the battlefield at Champion Hills, Mississippi on May 16, 1863. The would he received that day was a severe one, to his hip. It would have been a miracle if he had survived, but that was not to be. Lingering for three painful weeks, he surrendered to his fate on June 9, 1863.
McCray was born on October 9, 1838 in Madison County, Ohio to Joseph Washington McCray and Mary Ann Fredericks. He was the third of twelve children. Unfortunately for the McCrays he was the only son to live past the age of two. By 1848 the family moved to Fulton County, Illinois, where the last five of his siblings were born. By 1860 the family was living in Bremer County, Iowa, not too far from the town of Fairbank in Buchanan County. He enlisted in Buchanan County, Iowa in February 1862. It was a mixed blessing that his mother, Mary Ann, preceded her son in death, dying on April 8, 1862.
Thank you to Sharon Corcoran, whose great-great-grandmother was Private McCray's sister, for preserving the memory of her ancestor.