Private George Burney McCoy
Fifth Iowa Volunteer Infantry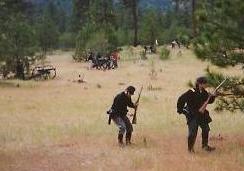 George Burney McCoy was born on December 22, 1841. He enlisted on June 24, 1861 in Company G of the Fifth Iowa Infantry. Unfortunately, he would not survive the war, dying on October 11, 1864. McCoy was captured at the tumultuous battle of Missionary Ridge, near Chattanooga, on November 25, 1863. He survived nearly a year in Andersonville, only to succumb to disease.
According to the McCoy Genealogy written by Lycurgus McCoy (Battle Creek, Michigan, 1904), Lieutenant Franklin N. McCoy of Company F was in command of "Burney's" company that fateful day. (Franklin was a resident of Kansas City, Kansas when the genealogy was written.) "He says twenty-five men of that company were taken prisoner, and that the remainder, about twenty-five, retreated from the picket line double quick one mile to their command, passing under the fire of six batteries." As already mentioned, George McCoy was one of the men who was captured.
McCoy's father, George McCoy, was a member of the fabled "Graybeard Regiment," the Thirty-Seventh Iowa Volunteer Infantry. He enlisted in Company A on October 9, 1862 at the age of sixty-two. He was discharged for disability on February 24, 1863.
Coincidentally, Lycurgus McCoy, the editor of the family genealogy was also an Iowa veteran. On August 13, 1862, he was commissioned as Second Lieutenant of Company F in the Thirty-Third Iowa Infantry. He was accidentally wounded on November 25, 1862, at St. Louis, Missouri. He resigned his commission on March 13, 1863.
The Fifth Iowa Regimental Website is grateful to Guy Wheat for providing this information from the McCoy genealogy.