Major William S. Marshall
The Singing Major
Fifth Iowa Volunteer Infanty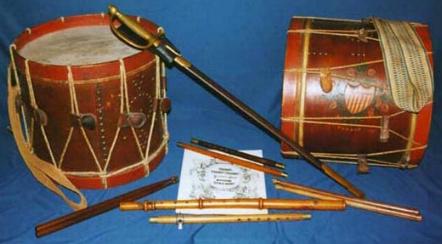 The interesting story below comes from Andersonville by civil war veteran and Andersonville survivor, John McElroy. In chapter eighty, he refers to a major from the Fifth Iowa Infantry who was held as a prisoner at the Columbia Military Prison for Union officers, in Columbia, South Carolina. Assuming that McElroy correctly recalled the rank and regiment of the tenor who made such a positive impression on him, it could only have been Major William S. Marshall. The records from "Camp Sorgum," as the Columbia Prison was known, record that he was indeed held there. However, while the roster indicates he "escaped" from prison, the book suggests that he was release. The Official Roster records the following about Marshall:
Marshall, William S.
Age 29. Residence Independence, Iowa, nativity Ohio
Enlisted July 1, 1861. Mustered July 15, 1861
Appointed Second Lieutenant July 15, 1861
Promoted to Quartermaster February 27, 1862
Promoted to Adjutant November 3, 1862
Promoted to Major April 23, 1863
Taken prisoner November 25, 1863, Chattanooga, Tennessee
Escaped from Columbus, South Carolina, November 28, 1864,
reaching Federal lines at Sweetwater, Tennessee, January 1, 1865
Mustered out January 12, 1865, Davenport, Iowa
Without direct access to information about Marshall's life following his mustering out, we cannot be sure about the accuracy of McElroy's recollection that he "within a fortnight" of arriving at Annapolis, Maryland.
The Biographical and Historical Catalogue of Washington and Jefferson College published in 1889, states that William Stanhope Marshall joined the college from his home in Ontario, Ohio. He was a teacher in Louisiana 1856-1857 and then a law student. He practiced law in Independence, Iowa between 1859 and the outbreak of the war in 1861. It is likely that he practiced law in partnership with Alexander Brown Lewis, a college classmate who had also taught in the South before the war, and who, like Marshall, accepted a commission in the Fifth Iowa Infantry. Marshall wrote a moving tribute to his friend which we have preserved on Lieutenant Lewis' page.
Following the war, the Catalogue indicates that he practiced law in Chattanooga, Tennessee in 1865, was married in 1868 to Louisa C. Bryant, and in 1873 to C.S. Montague. Finally it states that at a later date he practiced law in Louisville, Kentucky. The 1925 Catalogue reports that he died on January 27, 1891 at Chattanooga, Tennessee.
The account from Andersonville begins with the journey north by ship. As the senior enlisted man on board, McElroy was berthed with the officers. He writes, "the cabin of the vessel was filled with officers who had been released from prison about the same time we were. I was also given a berth in the cabin, in consideration of my being the non-commissioned officer in charge of the men, and I found the associations quite pleasant." He describes a concert provided by these same officers, who had turned to singing as a constructive discipline while enduring the hardships of a Confederate prison.
We regained spirits and appetites with amazing swiftness; the sun came out warm and cheerful, we cleaned up our quarters and ourselves as best we could, and during the remainder of the voyage were as blithe and cheerful as so many crickets.

The fun in the cabin was rollicking. The officers had been as [sea]sick as the men, but were wonderfully vivacious when the 'mal du mer' passed off. In the party was a fine glee club, which had been organized at "Camp Sorgum," the officers' prison at Columbia. Its leader was a Major of the Fifth Iowa Cavalry, who possessed a marvelously sweet tenor voice, and well developed musical powers. While we were at Wilmington he sang "When Sherman Marched Down to the Sea," to an audience of soldiers that packed the Opera House densely.

The enthusiasm he aroused was simply indescribable; men shouted, and the tears ran down their faces. He was recalled time and again, each time with an increase in the furor. The audience would have staid there all night to listen to him sing that one song. Poor fellow, he only went home to die. An attack of pneumonia carried him off within a fortnight after we separated at Annapolis.

The Glee Club had several songs which they rendered in regular negro minstrel style, and in a way that was irresistibly ludicrous. [Editor's note: this was a common form of entertainment, and although distasteful to modern sentiments, it was a staple of turn-of-the-century entertainment, as attested by the popularity of Al Jolson.] One of their favorites was "Billy Patterson." All standing up in a ring, the tenors would lead off:

"I saw an old man go riding by,"

and the baritones, flinging themselves around with the looseness of Christy's Minstrels, in a "break down," would reply: "Don't tell me! Don't tell me!"

Then the tenors would resume: "Says I, Ole man, your horse'll die."

Then the baritones, with an air of exaggerated interest: "A-ha-a-a, Billy Patterson!"

Tenors: "For if he dies, I'll tan his skin; An' if he lives I'll ride him agin,"

All-together, with a furious "break down" at the close: "Then I'll lay five dollars down, And count them one by one; Then I'll lay five dollars down, If anybody will show me the man That struck Billy Patterson."

And so on. It used to upset my gravity entirely to see a crowd of grave and dignified Captains, Majors and Colonels going through this nonsensical drollery with all the abandon of professional burnt-cork artists.
McElroy's statement that the unnamed major perished shortly after his liberation raises some question as to whether or not it was Major Marshall. Likewise the difference resports in his method of return to the regiment. The Fifth Iowa Regimental Site would be pleased to learn any additional information which would shed light on this intriguing mystery.
Special thanks for the college and career information to Towner Blackstock, Curator of Archives for the Fraternity of Phi Gamma Delta to which Major Marshall belonged.