Private Leprisette King
Fifth Iowa Volunteer Infanty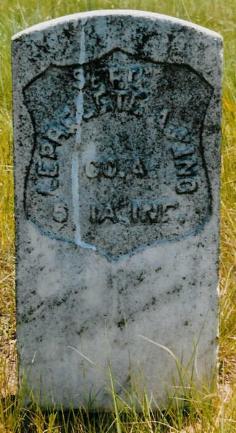 Leprisette King's military headstone in the Duncan Cemetery (Stephens County, Oklahoma) raises an interesting question. On it his name is spelled "Leprelete," which presumably is more accurate than the Official Roster entry, since it was written at the close of his life. Of greater curiosity is the fact that his rank is listed as sergeant. However, there is no record of his promotion during his service in the Fifth Iowa Volunteer Infantry.
King was born in Rhode Island, but residing in Cedar County, Iowa at the time of his enlistment on June 24, 1861. He was thirty-three years old when mustered into the regiment. While it was not uncommon for older soldiers to be entrusted with positions of noncommissioned rank simply due to the wisdom that comes with age, there is no evidence in the roster that this was so in King's case. Nevertheless, he did serve for nearly three years, before being mustered out on April 14, 1864 at Davenport, Iowa, due to disability.
Another perplexing thing is that King's death was listed in the cemetery records as 1863. Certainly an error, since he was not discharged from the Union army until the following year. Perhaps some descendant of this veteran will be able to shed additional light on the life of Private (or Sergeant?) King following the War Between the States.
The Fifth Iowa Infantry site is grateful to Pastor David Smith who undertaken the task of researching the graves of every Civil War veteran buried in Stephens Country, Oklahoma.