First Lieutenant George Jordan
Fifth Iowa Volunteer Infanty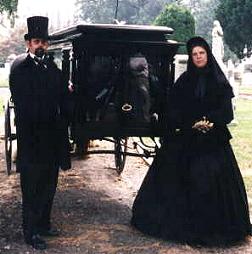 First Lieutenant George C. Jordan was still a young man when he left his home in Independence, Iowa to accept a commission in Company E of the Fifth Iowa Volunteer Infantry. Mustered on July 15, 1861, he would be dead in less than one year. He died of typhoid fever on March 20, 1862 at New Madrid, Missouri.
Although he died early in the war, in part because of his friendship with the editor of an Iowa newspaper, his sacrifice was memorialized. Fortunately for us today, it has been preserved in the History of Buchanan County, Iowa 1842-1881.
DEATH OF LIEUTENANT JORDAN, OF THE FIFTH REGIMENT

It will be remembered that company E, of the Fifth Iowa volunteers, was raised in Independence, and composed almost exclusively of Buchanan county men. From the time of its entering the service, the regiment had been stationed at various points in central, northern, and southwestern Missouri. In March, 1862, it was incorporated with one of Pope's brigades then investing New Madrid. This place was held by a force of forty thousand rebels, behind a double line of fortifications, and was one of the links in that chain of defences which seemed to bind the Mississippi to the confederacy with bolts of iron. During the siege, fatigue and exposure, acting upon a frame already enfeebled by disease, prostrated the gallant Jordan; and even while his friends at home were indulging in the fond hope that rest and care were doing a work of rapid restoration to health, a relapse bore him with fatal celerity beyond the reach of care and skill; and, in the midst of the rejoicing over the signal victory of our arms in Arkansas, and a signal exemption from loss of life among the sons of Buchanan, came the unlooked for announcement that he was dead.

Let the tributes poured from hearts bleeding from a sense of irreparable loss, attest the sincere esteem--the admiring, affectionate regard, in which Lieutenant George C. Jordan was held by his comrades in arms, and by the friends of his early years in the community where, until he went forth at his country's call, had been his home. He was (it will be remembered), a business partner of Mr. Rich, of the Buchanan county Guardian.

EDITORIAL TRIBUTE OF THE GUARDIAN, APRIL 1, 1862

Our friend is gone! We cannot realize it! And yet we remember--when the first bright, warm sunshine of spring was flooding the earth, when everything seemed awakening into beauty and life, when hope was buoyant and our spirits bright and cheerful--we remember how suddenly there came a blow, blotting out the brightness, dashing aside hope and cheerfulness, and loading our heart and frame with a weight of sorrow unutterable, And we remember the atlas--load of agony thrown upon her who was all in all to him. And then comes a vision of him who has so long been our friend--the same slight frame, the same fair countenance, the parted lips wearing the genial smile we had seen so often. And when we remember this, and feel the load of sorrow at our heart, and mark the wealth of woe in our household, we know that he who has been our closest companion is no more. For thirteen years we have stood by his side--working hand-to-hand with him, eating from the same board, sheltered by the same roof, enjoying a more than brotherly confidence, knowing his every aspiration, almost his every hope. In our business the same kind of confidence existed. There were no accounts between us, but each shared the success and deprivations of the other. None knew better than we, then, the generous hopes that animated him--the brave spirit with which be was endowed, the purity of his life, the kindness of his heart, the fidelity of his friendship, the nobleness of his manhood. None know better than we how pure and unselfish the motive which led him to leave a wife and home he loved better than anything on earth, to go forth at his country's call, and lay upon her altar the sacrifice of his valued life. All that love and friendship could proffer, was offered to induce him to remain at home, but he declared that he could never stand an idle spectator of the contest and be happy. He went forth in the discharge of what he deemed a sacred duty. How well he performed that duty we know, for we have watched the tearful eye of his men, who have come back enfeebled by disease, as their grateful lips acknowledge the obligation of his kindness and faithfulness. He loved his men, and when we urged him but a little while ago, to get a furlough and come home, he wrote that he could probably get detailed for recruiting service; but as it would take him sometime from his men [and at a time when there was much sickness in the regiment], he would not think of it. "I shall stand by the company" he said, and that ended the controversy. Alas that he should he the first that should fall! Alas that the golden bowl of his life should be the first broken at the fountain!

Since the first of March, fatigue and exposure had worn upon him. Care and rest, however, brought recuperation. On the march to New Madrid, he improved and was daily gaining strength. But his regiment was ordered out to support a battery that was playing upon the enemy. Too weak to go, he was yet too eager to stay. In spite of the expostulations of his men, he went. To avoid the shells of the enemy the troops were ordered to lie down on the damp ground. He obeyed, caught cold, had a relapse, lingered a few days and died; sinking away calmly and quietly without a perception of the loosening and breaking of the golden thread of his life--died with the green of spring carpeting the earth with beauty, the buds and blossoms opening around him, and when life and honor and usefulness must have seemed to be opening before him with a promise fair and bright, as that betokened by nature's reawakening--died as he always wanted to die, if the sacrifice was needed, in the harness of the faithful soldier, and the booming of the deep-mouthed cannon, and the crash of shells sounding in his ear. We shall listen long and anxiously for his coming, while our hearts must grow sick as we remember that never more shall we meet his pleasant greeting. Shade of all noble virtues rest thou in peace! "Dear friend! brave heart! hail and farewell!"

IN MEMORIAM

Tears for the dead, though unaiding, will flow, and grief for departed friends will be felt, and its poignancy, is only the greater because it cannot unclose the portals of the tomb. This grief now pervades the whole community; these tears bedew every eye. Lieutenant George C. Jordan is no more. In the bloom of manhood, and in the full usefulness and efficiency of the noblest efforts for his country, he has laid down his life as a sacrifice for liberty, and the preservation of this republic.

After the bloody and memorable battles of Pea Ridge and Fort Donelson, battles which for courage and heroism will compare with any of Grecian or Roman history, and which the people of Buchanan county watched with an interest and anxiety indescribable, because they had precious and noble sons among those gallant troops--after those battles, when we learned that one out of every three was either killed or wounded, we waited with breathless suspense to know who were the brave men that had shed their blood to preserve our liberties, our honor and our nationality. The news came--the load of dread was lifted from our spirits. While many were wounded, but three of our beloved soldiers were killed, and among our fearless officers, none were slain. We exchanged congratulations with ardor, and the gloom was dispelled from all our countenances. We exulted in the indomitable courage and the unconquerable bravery of those whom our own county had sent to the field.

Alas! this joy was of short duration. In the midst of our rejoicing, like a burst of thunder in a clear sky, the terrible news pervaded the community, that George C. Jordan was brought into the village a lifeless corpse. It was even so. That noble heart had ceased to beat. His family, his friends, his country have lost him forever; save as his example and his deeds live after him. Never, in this community, has a death produced such general and such profound grief. The aspect of our village was as if a great calamity had befallen it, and no countenance but bore the marks of sorrow. The mournful topic absorbed all others, and all felt as if they had lost a son or a brother.

Well did the departed deserve these tributes of respect, affection, and grief. Wherever he was known he was beloved. Kind, generous, intelligent, unassuming, free-minded, benevolent, and virtuous, he won all hearts and secured universal esteem. No wonder, then, that the pang was so great when he was lost to us. No wonder that we all felt that a good citizen, a brave soldier, a true patriot, had taken his departure. It is not too much to say that he has not left an enemy behind him. His life was a succession of worthy actions, and it may be emphatically said that he was incapable of an ignoble one. He was eminently just and honorable, of gentle deportment and engaging manners. Yet he had firmness when it was required, unflinching courage where it was demanded, and, when duty called, a tenacity of purpose that was fixed as fate.

We do well to weep for him. He deserves our tears, and our expressions of heartfelt sorrow were simultaneous and spontaneous. The flags which were before waving so proudly for our recent victory, were weighted with the emblems of woe, and badges of mourning were displayed throughout the village. Friends met and exchanged greetings in hushed voices, and it seemed almost a profanation that business should go on, when his great heart had ceased to throb--when he had been brought back dead.

Notwithstanding high streams and almost impassable roads, and the great difficulty of diffusing intelligence, people from remote parts of the county flocked to the funeral. The citizens of the place vied with each other in paying respect to one so honored for what he was in himself and for what he had become in dying in so noble a cause. The funeral services were conducted by the Rev. Messrs. Boggs, Fulton, Sampson, and Caldwell. The funeral sermon was preached by Mr. Boggs, at the Presbyterian church, which was densely packed. The speaker was at times much affected himself, and tears and sobs pervaded the audience. The discourse abounded in eloquent bursts of patriotism, just tributes to the virtues and unblemished life of the deceased, indignant rebukes of the treason which has produced such dreadful evils in our land, pathetic sympathy with surviving kindred and friends, and exhortations to imitate the noble conduct, the courage and patriotism of him for whom we mourned.

Touching testimonials to the worth and excellence of Mr. Jordan, and respect for his memory, and grief for his untimely death, are found in the resolutions passed by his comrades in arms, regimental officers as well as members of his own company uniting in the warmest expressions of regard. These resolutions, which have been placed in our hands, are appended to this tribute to our departed friend.

Farewell, noble and heroic patriot! Your memory will live perpetually in our minds. And if his loss is so great to the community, what must it be to those who were nearest and dearest to him? On the loneliness and desolation of the wife of his bosom, and the sad loss to his most intimate friend and associate in business, I cannot, dare not, touch. I feel utterly unable to describe or console their affliction. I can only commend them to the feeble and remote consolations of resignation and time, and to the certain conviction that with such a noble and virtuous soul it must, beyond all peradventure, be well.
In addition to this amazing editorial tribute, we also have a resolution in his honor which was drafted by the other officers of his regiment. Their statement of sympathy is also touching.
In Camp, Before New Madrid, Missouri, March 21, 1862

At a meeting of the commissioned officers of the Fifth Iowa volunteers, at regimental headquarters, Lieutenant Colonel Mathies announced the decease of Lieutenant George C. Jordan, of company E, Fifth Iowa volunteers. Whereupon Major Robertson was called to the chair, and Captain Sampson appointed secretary. On motion the chairman appointed a committee of three, consisting of Lieutenant Moriarty, Captain Lee, and Lieutenant Caswell, to draft resolutions of condolence, expressive of the sense of the officers of the regiment on the loss of our late associate and brother officer, Lieutenant Jordan.

The commitee reported the following resolutions, which were unanimously adopted:
Whereas, It becomes our painful duty to announce the decease of Lieutenant George C. Jordan, of company E, Fifth Iowa volunteers, who died March 20, 1862, in camp near New Madrid, Missouri, after a brief illness, with typhoid pneumonia, as a testimonial of the respect and esteem of the officers of the Fifth Iowa volunteers it is unanimously Resolved, that in the death of the late Lieutenant Jordan we have lost a brother officer of unblemished character as a gentleman and officer, whose kind disposition, unassuming deportment, and clear-sighted, intelligent discharge of every duty, rendered him beloved by his men, cherished and respected by all. While we deeply and sincerely deplore his loss, we bow with reverence and submission to the will of the Great Disposer of life and death, and say in our hearts: "Thou art the source and fountain of life - in thy hand are also the arrows of death, Thy will he done,"

Resolved, that the Fifth Iowa volunteers, in the death of Lieutenant Jordan, has lost one of its most accomplished officers, whose ability and patriotic zeal in the service of his country; high moral worth and unblemished integrity as a man, enshrines the memory of his virtues in our hearts, which we will ever cherish as worthy to be our example.

Resolved, that the officers of the Fifth Iowa volunteers wear the usual military badge of mourning for thirty days.

Resolved, that our unfeigned sympathies and condolence are extended to the friends and relatives of our brother officer, and to his sorrow-stricken wife we send our heartfelt assurance of sympathy in this her great bereavement.

W.S. Robertson, Chairman
E.S. Sampson, Secretary