Lieutenant Lilburn W. Henderson
Fifth Iowa Volunteer Infantry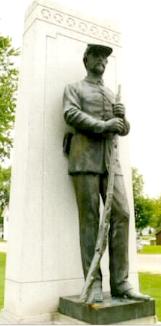 In 1841, Lilburn Henderson was one of eight children born to William Henderson and Sarah Lewis Henderson of Ohio. William Henderson was one of the early settlers around West Liberty, Iowa, arriving with his family including his infant son Lilburn.
Lilburn's mother came from a Quaker family, and it is likely he was raised in this pacifist tradition. He grew up surrounded by hard-working relatives other pioneers who established farms in that portion of Iowa between Muscatine and Cedar Counties.
Lilburn enlisted as a Private on 24 June 1861 in Company A of the Fifth Iowa Volunteer Infantry. He was promoted to Second Corporal the following August, becoming Third Sergeant only a month later. In March of 1863, he became his company's First Sergeant.
Heavy casualties provide many promotion opportunities to the deserving, and on July 10, 1863, this proven leader was commissioned as a Second Lieutenant. With the completion of the regiment's three year enlistment, Henderson mustered out at Chattanooga, Tennessee on July 30, 1864.
After the war, he married Amanda Elliott, the daughter of Ohio Quakers, in 1867. In 1880, Lilburn and Amanda and their children were living on Calhoun Street in West Liberty, where Lilburn worked as a teamster. They were living next door to his brother Egbert Henderson, who was also a teamster. (Egbert served successfully in the Second Iowa Cavalry Regiment, where he reached the rank of Fifth Sergeant while serving until the war's conclusion.)
Lilburn died in 1905 and was buried in Oakridge Cemetery in West Liberty next to his daughter Florence, who had passed away in 1890. When his wife Amanda died in 1928, she was buried by his side. In 1881, Lilburn filed for a Civil War pension; after his death, his wife filed for a widow's pension.
The following quotes are from the 1928 obituary of his wife Amanda, and reveal a bit about their children. "Amanda Elliott was born at Palmyra, Ohio, in 1845 and when a child of seven she came across the prairies in a covered wagon, with her parents, who lived a few miles north of West Liberty. Here she grew to womanhood and on January 15, 1867 was united in marriage with Lilburn W. Henderson… To this union were born nine children, seven of whom are still living: Lee of Price, Utah; Robert L. and Frank D. of Los Angeles; Hugh J. of Denver; Elma and Nelle of Salt Lake City, and Mrs. Elizabeth Crane of Glenn's Ferry, Idaho. The two preceding her in death were Florence and William R… By birthright she was a member of the Friends church, but became a member of the Unitarian church later in life. Mrs. Henderson was a charter member of the Woman's Relief Corps in West Liberty, her husband having been a Civil War veteran who died in 1905. After his death she went to Salt Lake to make her home with her children."
The Fifth Iowa Volunteer Infantry site is indebted to Kathryn Wells for this comprehensive biographical account of Lieutenant Henderson, who was related to her own veteran ancestors.