Corporal Stewart Handshaw
Fifth Iowa Volunteer Infantry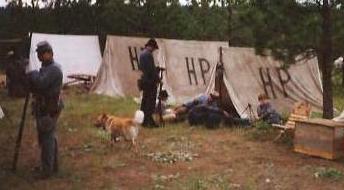 Stewart Handshaw (Hanshaw) was born on February 22 1837 in Ohio. On June 24, 1864, this resident of Business Corner, Iowa enlisted in the Fifth Iowa Infantry. He was mustered into Company H on July 17th. He was promoted to the rank of Seventh Corporal on February 1, 1864, and mustered out of the Army on July 30, 1864 at Chattanooga, Tennessee.
Like many other soldiers, Handshaw married shortly after his return hom at the war's end. He married Roseanna Ratcliff on October 5, 1865. They resided at Lick Creek Township, Van Buren County, Iowa during the 1870 census. It records that they had three children residing with them. Two were certainly their own, but an eleven-year-old named Eliza may have been a relative.
Handshaw died on February 1 1890 and was buried at Zion Lutheran Cemetery in Douds, Iowa. His wife lived until March 20, 1916. Upon her death she was buried beside her veteran husband.