Grand Army of the Republic Reunion
Fifth Iowa Volunteer Infantry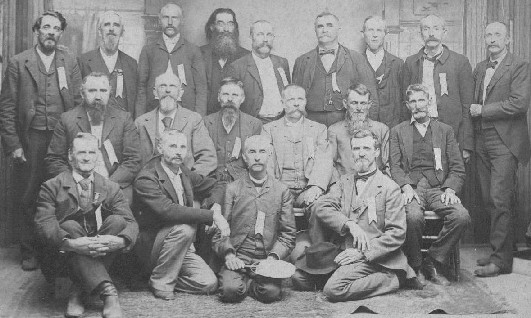 Due to the detailed research of John Horrighs, we have been able to identify several members of the Fifth Iowa Infantry who gathered for this regimental reunion photograph at a meeting of the Grand Army of the Republic.
Since a number of the men pictured are definitely veterans of the regiment, it is presumed that the remainder also served with the Fifth Iowa. If you are able to identify any of the remaining soldiers, please notify the "headquarters" of the Fifth Iowa Volunteer Infantry.
Seated on Floor
(left to right)
Unknown
Robert E. Coulehan, Company I
Unknown
Unknown
Sitting in Second Row
Unknown
Captain John Grubb, Company C
Unknown
Unknown
Unknown
John S. Moore, Company C
Standing in Rear
Unknown
Unknown
Unknown
George T. Ditto, Company I
Unknown
Captain William S. Dean, Company A
Unknown
Private John Andrew Fosdick, Company K
Corporal Charles Fosdick, Company K
The identifications made above are due to the kind assistance of John F. Horrighs, who has spent many years studying the history of the "Fighting Fifth." The Fosdick brothers were identified by their descendants.