Private John Andrew Fosdick
Fifth Iowa Volunteer Infantry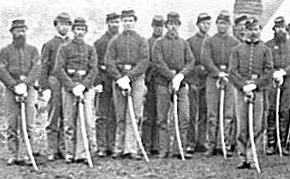 Along with his younger brother, Charles, John Fosdick traveled to Burlington, Iowa to enlist in Company K of the Fifth Iowa Infantry on July 15, 1861. Interestingly, muster documents list him as a resident of Westfield, Sauk County, Wisconsin. Apparently the two brothers desired to serve side-by-side, and John joined Charles in enlisting near his home.
During the battle of Champion's Hill, Mississippi, on May 16, 1863, John was severely wounded. A Minnie ball passed through his right shoulder, causing an injury which would leave him partially disabled for life. Presumably after a serious recuperation, he was able to serve the remaining portion of his three year enlistment. John was mustered out of service on July 17, 1864, at Davenport, Iowa.
Despite his wartime wound, he lived a long life, dying on August 20, 1927, in LaCrosse, Wisconsin.
Thank you to the great-great-grandson of John's brother, John Walker, for this information.