Sergeant Caspar Deppe
Fifth Iowa Volunteer Infantry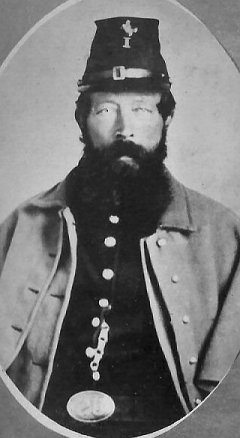 Casper Deppe was born in Germany and was forty-four when he answered the call to preserve the unity of his adopted homeland. He enlisted on June 24, 1861 as Fifth Corporal of Company I. On New Years Day of 1862, he was promoted to Fourth Corporal. In May of that year he was promoted to Fifth Sergeant of the company. Had he been a younger man, he may have been commissioned before the war's end. However, on August 26, 1862, he was discharged due to disability.
His obituary in the December 24, 1896 edition of the Bellevue Leader reveals some insight into his life:
Caspar Deppe was born in Germany in 1817 and died at his home in this city, Friday, Dec. 17, 1896, after a short illness. He came to this country in 1850 and in 1854 was married to Miss Sophia Altfillisch, who died only recently. To them six children were born, all of whom are living. He served in the war of the rebellion, enlisting in the 5th Iowa Infantry. During the war he contracted a disease of the eyes which left him almost totally blind, and for which he has received a pension of $72.00 per month. For many years he was engaged in farming south of town, coming to Bellevue in 1890, since when he has been a familiar figure on our streets, being led by a faithful little brown dog.

His funeral was held from St. Joseph's Church, last Saturday forenoon, the Rev. Father Bies officiating. Iuka Post No. 131 G.A.R., of which Mr. Deppe was a member, attending in a body.
Prior to the war, Caspar married the sister of Private Michael Altfillisch of the Fifth Iowa Cavalry. Ironically, if he had served long enough to reenlist, the two soldiers would have been in the same regiment at the war's end.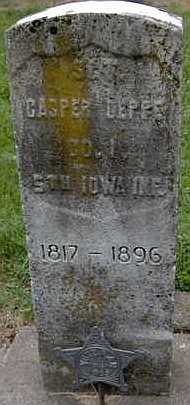 Deppe's Grave Marker
We are grateful to Bill Deppe for the picture of his ancestor, shared with the Fifth Iowa Regimental website by way of his distant "cousin," Michael Altfillisch.