Major William Cotton
Fifth Iowa Volunteer Infantry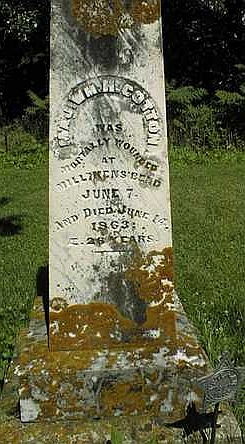 Although he was not destined to survive the War Between the States, William Cotton's family left a fitting monument to his sacrifice.
Born in New York, Cotton resided in Bellevue when the war broke out. He enlisted on June 24, 1861 as the First Sergeant of Company I. He was commissioned as the company's Second Lieutenant on January 1, 1862. That fall, on September 4, 1862, he was promoted to First Lieutenant. Cotton survived wounds received on September 19, 1862 during the Battle at Iuka, Mississippi. He was captured by the Confederates and paroled.
The Official Roster lists his final promotion as being to Captain on October 18, 1862. His tombstone proudly declares that he was a major at the time of his death, and it is quite likely that he was indeed promoted but died before it could be formally recorded. During the Battle of Milliken's Bend in Louisiana, he was mortally wounded on June 7, 1863. Cotton died three days later.