Regimental Commanders
Fifth Iowa Volunteer Infantry

The Fifth Iowa Infantry was commanded by several exceptional officers during its distinguished service.
William Hord Worthington
Colonel William Worthington was the first colonel to command the Fifth Iowa infantry. He was born in Kentucky in 1828, his family lineages going back to Virginia and Maryland. His mother having died when he was an infant, he was raised by his maternal grand-uncle, Major William Hord, in Louisville. A graduate of Bacon College in Harrodsburg, Kentucky he became a lawyer after an early attempt at farming. In 1857 he moved to Keokuk, Iowa and set up his law practice. He was serving as a captain in the "City Rifles" militia company when the war broke out. Although Worthington was a conservative with a Southern background, he remained fiercely loyal to the United States. After Worthington was unsuccessful at obtaining a regular army commission, he was offered the colonelcy of an Iowa volunteer regiment by Iowa Governor Kirkwood. He received his commission as colonel of the Fifth Iowa Volunteers on July 15, 1861.
As was not unknown in western troops early in the war, Colonel Worthington was considered to be a rather strict disciplinarian by his green Iowa troops. The colonel's efforts were complimented by General Pope, who said in October, 1861: "Colonel, your regiment is the most soldierly-appearing one I have seen in Missouri." Colonel Worthington led the Fifth Iowa during the regiment's early operations in Missouri and through the operations at New Madrid, Missouri and Island No. 10 under General Pope. In the early morning hours of May 22, 1862, near Farmington, Kentucky, Colonel Worthington, while acting as Division Officer of the Day and inspecting his pickets, was mistakenly shot by a Union sentinel who had been harassed by Confederate pickets earlier in the evening. The sentinel was arrested, tried and acquitted. Colonel Worthington was described by regimental historian "Marsh" Byers as "one of the most competent colonels in the army, but among his soldiers he was fearfully unpopular."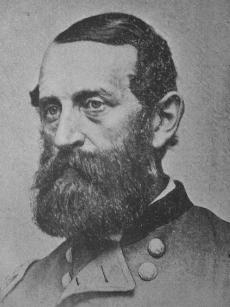 Charles Leopold Matthies
Charles Matthies was born in Bromberg, Prussia in 1824. He graduated from the University at Halle and served in the Prussian army 1847-1848, emigrating to America in 1849. Late in that year he took up residence in Burlington, Iowa and established a liquor business. Matthies had the distinction of being the first man to offer a military company to the Federal Government for service in suppressing the Rebellion. The offer was made on January 9, 1861, through Governor Kirkwood of Iowa. He served as a captain of Company D in the ninety-day First Iowa Infantry regiment until he was appointed to the lieutenant colonelcy of the Fifth Iowa on July 23, 1861. He rose to become Colonel of the regiment upon the death of Colonel Worthington. Colonel Matthies was an able and courageous leader and led the Fifth Iowa at the bloody battle of Iuka, Mississippi on September 19, 1862. He was promoted to Brigadier General on April 4, 1863, to date from the previous November 29th.
Marsh Byers refers to him as "one of the bravest, best, and most loved commanders of our army." It is also said that "he was always on kind and familiar terms with every soldier of his command, and his familiarity in no way interfered with his discipline." To his troops he was affectionately known as "old Dutchie." General Matthies expressed his reciprocal fondness for the regiment when he would say in his broken English, speaking of the regiments of this brigade: "De five Iowa is de best regiment vat is..."
Brigadier General Matthies continued to be associated with the regiment as brigade commander until he was forced to resign on account of ill health. He was wounded by a bullet in the head at Missionary Ridge on November 25, 1863. The cumulative effects of previous campaigning, hardships and his wound compelled him to resign May 16, 1864. He returned to Burlington and died there October 16, 1868. At the time of death he was a senator in the Iowa legislature.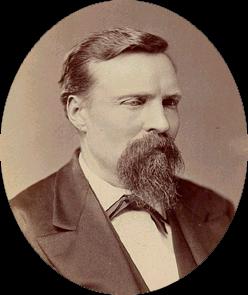 Ezekiel Silas Sampson
During the period between Brigadier General Matthies' departure at Milliken's Bend, Louisiana in mid-April, 1863 and the fall of Vicksburg in early July, 1863, the Fifth Iowa Infantry was led in the field by an acting regimental commander as is customary in military service when a senior is detached without a contact relief. Serving as acting regimental commander for that period was Ezekiel Silas Sampson. He was born in 1831 in New Haven, Ohio. In 1843 his family moved to Keokuk County, Iowa. He became a lawyer in Sigourney, Iowa and was Keokuk County Attorney before the war. In April, 1861 he formed a volunteer company of which he was the captain; it was subsequently mustered into the Fifth Iowa Infantry in July as Company F.
Although the Iowa Roster says he was promoted to Lieutenant Colonel of the regiment to succeed Colonel Matthies on May 23, 1862, his commission did not reach him until September 1st so he did enter upon his new duties until September 2, 1862. The regiment saw hard fighting at the battles of Jackson, Champion's Hill, and Vicksburg, Mississippi in May 1863 with Lieutenant Colonel Sampson in command. Ezekiel Sampson continued as the Lieutenant Colonel of the regiment until he mustered out at the expiration of his service in September, 1864. He was presented with a decorated sword by the regiment for his services during the Vicksburg campaign. After the war Lieutenant Colonel Sampson was a lawyer, state senator, judge, and member of the House of Representatives in Congress.
Jabez Banbury
Jabez Banbury was born in England in 1831. He came to the United States at an early age. At the outbreak of the Civil War he was a mechanic by trade, residing in Marshalltown, Iowa. He assisted in the formation of a volunteer company in June 1861 which was mustered in as Company D. Banbury was the original First Lieutenant, but he was promoted to Captain on December 2, 1861 upon the resignation of the original company commander. On July 14, 1862 he was advanced to Major. At the Battle of Corinth, October 3, 1862, Major Banbury was detailed to assume command of the Seventeenth Iowa Infantry which had lost many of its own field officers.
Major Banbury's performance in leading the Seventeenth Iowa to capture the colors of the Fortieth Mississippi along with more than a hundred prisoners, was favorably noted in reports of the battle. His actions at Corinth were likely to have influenced his promotion to the command of the Fifth Iowa Infantry, his promotion to colonel dating from April 23, 1863 (following Colonel Matthies' own promotion to Brigadier General. The exact date upon which Colonel Banbury assumed actual command of the regiment is unclear, but it appears to roughly coincide with the fall of Vicksburg on the fourth of July, 1863.
At Missionary Ridge Colonel Banbury "showed great courage, riding constantly under the heavy artillery and musketry fire of the enemy." He is also described as "reticent in manners, intelligent though not educated, honest, upright, and thoroughly reliable." His apparently quiet and unassuming manners meant that in many instances his accomplishments were not fully recognized and subsequently he was given insufficient credit. Colonel Banbury mustered out at his expiration of service in August, 1864. After the war he resided in Pasadena, California.
The information above was compiled by Keith Young.