Private Henry Budde
Fifth Iowa Volunteer Infantry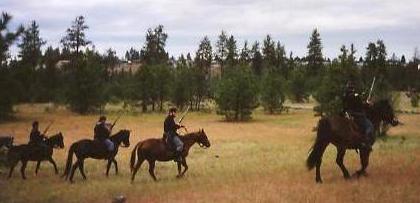 Henry Budde was twenty-two when he enlisted on June 24, 1861 in Company I of the Fifth Iowa Infantry. Unfortunately, he did not serve for long before being discharged due to disability on November 5, 1862 at Saint Louis, Missouri.
Frank Budde served in the same company. Their relationship is unclear, however, since Henry was listed as being born in Illinois, and the younger Frank was identified as being born in Germany. However, since the obituary states that Henry was actually born in Germany as well, it's likely the men were brothers. Frank also failed to end the war in good health. He transferred to the Invalid Corps on January 15, 1864.
Henry Budde's obituary appeared in the May 4, 1907 edition of The Bellevue Leader.
DEATH OF HENRY BUDDE
Veteran Harnessmaker Passed Away Friday at Home in this City--Civil War Veteran

Henry Budde answered the final summons at his home on Fifth Street last Friday morning at 11:15 o'clock. About three weeks ago he suffered a stroke of paralysis and never recovered from its affects. Death came peacefully and without evident pain.

Deceased was a man who was popular in the community because of his cordiality and genial disposition. He had a host of friends and his death has caused general regret. He was on friendly terms with the younger generation and they have lost one who took a lively interest in them.

Mr. Budde was a native of Oldenburg, Germany, where he was born Sept. 17, 1834. When only 5 years old he came to America with his parents and they settled in St. Louis. In 1849 he removed to Quincy, Ill., thence to Galena and in 1856 to Bellevue. Here he engaged in the manufacture of harness and horse supplies which vocation he followed all his life. Mr. Budde was married to Miss Julia Klinesmith at Spruce Creek, April 7, 1863 and they were the parents of thirteen children of whom eleven with the wife survive, namely: Mrs. Anna Smith, Mrs. Phil Franklin, Chas., Joe and Elmer of Minneapolis, William of Seattle, Mrs. Joe Hafer and Mrs. Theo Steinmetz of Marshfield, Wis., Clara, Nellie and Irving of this city. He is also survived by his sister, Mrs. Joe Cline of Minneapolis, a brother of Little Falls, Minn., and a half-brother Jos. Lucke Sr. of Bellevue.

Mr. Budde served his country in the time of its greatest peril and was a member of Co. I., 5th Iowa Inf. He was in several important battles and received an honorable discharge after having served one year.

The funeral of this good man was held Monday morning from St. Josephs Church and was very largely attended. The pall bearers were Peter Kass, Fred Dierkes, J. B. Reistroffer, John Hipschen, Sr., Chas. Dierkes and Peter Clausen. Those present from out of town were his daughters Mrs. Phil Franklin of Minneapolis, Mrs. Joe Hafer and Mrs. Theo Steinmetz of Marshfield, Wis., his son Elmer and granddaughter Gladys Franklin of Minneapolis.
The Fifth Iowa regimental websites are grateful to Michael Altfillisch, proud descendant of one of our veterans, for transcribing this obituary.