Captain Joel Brown
Fifth Iowa Volunteer Infantry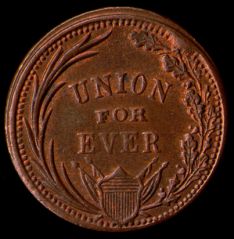 Joel Brown was twenty-nine when he left his home in Birmingham, Iowa to accept appointment as the First Lieutenant of Company H on July 17, 1861. He had been born on March 8, 1832 in York County, Pennsylvania. The 1860 Census of Van Buren County, his occupation was listed as blacksmith. Joel's first wife Angelina Griest died in 1855. He married Sarah McDonald, a native of Muskingum County, Ohio in 1862. They had one son, Charles M Brown.
On October 6, 1861, Brown was made the company's captain. He was one of the courageous casualties in the Battle of Iuka on September 19, 1862 where he was wounded. In "Pensioners Residing in Knox County" reported in the March 6, 1877 issue of the Knox County Democrat it reports: "Brown, Joel, Edina g s w l arm $10.00 as of Dec 1877" (gun shot wound left arm). The Official Roster records he was "wounded in breast severely September 19, 1862." Apparently, although he was not immediately retired due to his injury, on March 8, 1863, he did resign his commission due to his health.
Brown continued to serve his nation following the war. He served three terms in the Iowa Legislature as representative of Van Buren County, Iowa. After moving to Missouri he was in the drug store business for four years. He also served two terms as Treasurer of Knox County, Missouri. Brown was appointed Postmaster of Edina, Missouri in 1883. He moved to Oklahoma with his second wife and son and died there on August 31, 1901.
The Fifth Iowa Volunteer Infantry regimental site is grateful for information on this page to Adam Poole, a British student of the American Civil War, and his cousin Tom Brown.