Quartermaster Thomas McNeely
Fifth Iowa Volunteer Cavalry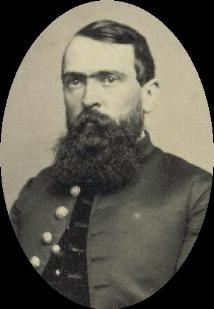 Thomas M. McNeely was entrusted with a great deal of responsibility when he was appointed Fifth Iowa Cavalry Regimental Quartermaster on May 29, 1863. He was a thirty-two year old resident of Wheeling, Virginia at the time. He served until nearly the end of the war in this capacity, resigning on March 21, 1865.
It is quite possible that Thomas was the related to Erastus McNeely, who was to become Lieutenant Colonel of the regiment. The family resemblance is striking.
The Fifth Iowa Cavalry site is deeply indebted to Michael Breeling for sharing the civil war image of McNeely, for which he maintains the copyright.