Lieutenant Colonel Erastus McNeely
Fifth Iowa Volunteer Cavalry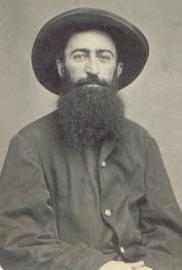 Erastus G. McNeely was a twenty-eight year old resident of Omaha, Nebraska when he enlisted in Company B as First Sergeant on September 10, 1861. He was promoted to Second Lieutenant on January 24, 1862. McNeely was taken prisoner on August 27, 1862 at Cumberland Iron Works, Tennessee. He was paroled.
McNeely was promoted to First Lieutenant on September 1, 1862 and Captain on March 6, 1863. He served with Company B for the duration of the war, but was promoted to the rank of Lieutenant Colonel on July 7, 1865. However, he was not mustered in that grade. McNeely mustered out of the Army on August 11, 1865 at Nashville, Tennessee with the rest of his regiment.
It is quite possible that Erastus was the related to Thomas McNeely, who was the Regimental Quartermaster. The family resemblance is impressive.
The Fifth Iowa Cavalry site is deeply indebted to Michael Breeling for sharing the civil war image of McNeely, for which he maintains the copyright.