First Sergeant Josiah Conzett
Fifth Iowa Volunteer Cavalry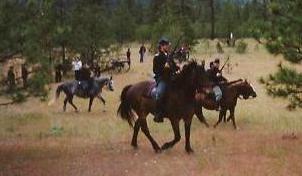 Josiah Conzett immigrated to America from Switzerland. His family settled in Dubuque, Iowa. His older brother David had enlisted in the short-lived First Iowa Infantry in the first days of the War Between the States. When he was mustered out with his comrades in August of 1861, he rushed to enlist in Company E of what would become the Fifth Iowa Cavalry. Josiah joined him signing on in September, and the two brothers served together in Company E for nearly the whole of the war. Sadly though, David Conzett,would not survive to witness the final victory.
When the brothers reenlisted, David was promoted to the rank of Saddler. Presumably due to his experience in storekeeping, Josiah had enlisted in the regiment as the Quartermaster Sergeant of the company. As the war was entering its final throes, he was promoted to First Sergeant on February 3, 1865. On August 3, 1865, Conzett was promoted to Second Lieutenant. However, as confirmation of this promotion would have required traveling to Washington DC--and like most veterans he did not want his reunion with his family delayed--he was never mustered as a commissioned officer.
Josiah mustered out with the rest of the regimental veterans at Nashville, Tennessee on August 11, 1865. Although he remained proud of his service the remainder of his life, there is no doubt that the death of his brother, and comrade in arms, left a permanent wound. In his memoirs, Josiah recorded this touching illustration of how his elder brother was watching over him during the war.
Now, as Captain Nott had resigned, it left a vacancy to be filled. 1st Lieut. M.M. Wheeler was promoted to Captain, Levi Moreing to 1st Lieut and Orderly Sgt Andrew Guler to 2nd Lieut I, being next in rank as QM Sgt., should have been promoted to Orderly Sgt. But owing to my brother Dave's solicitude for my safety, I was skipped and Sgt L.H. Carley became our Orderly Sgt My position as QM Sgt would keep me out of danger of exposure of battle by having to look out for our stores and all the supplies, which were necessarily kept in the rear at such times, and I was responsible for their safety as well as for the ammunition that I had to give out. I, however, never missed a scout, battle or skirmish when with the command. But Dave always tried to shield me. So he went to the Capt and begged him to keep me as I was. He promised to do so, and kept his word by promoting Carley. Carley made a good Orderly. He was a large, fine looking and brave man; every inch a soldier. But I felt very bad over it, as it kept me out of a commission to the last of the war. It would have been a reflection on me as a soldier, had it not been understood why it came about. Dave always regretted it.
Despite the fact that David did not survive, the brothers shared many good times. Those memories certainly comforted Josiah as he recalled those moments. For example, in the wake of Josiah's disappointment at not being promoted, as related above, he says, "we celebrated the promotion in great shape, as apple jack and commissary whisky was on hand for the occasion; but we will pass this upů"
The Fifth Iowa Cavalry site is deeply indebted to the Conzett Family for sharing with the rest of the world the Civil War recollections of Lieutenant Josiah Conzett.