Saddler David Conzett
Fifth Iowa Volunteer Cavalry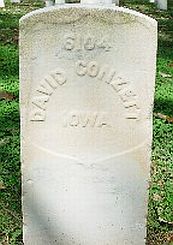 David Conzett was twenty-two when he rushed out to join the Jackson Guards (which became Company G of the First Iowa Infantry). Born in Switzerland, he was eager to defend his adopted country. He served with the regiment throughout its brief existence, mustering out on August 21, 1861. His younger brother Josiah described the impression that the men of the Jackson Guard made with their heroic homecoming:
Who that saw the home coming of those brave boys of the Gov. Greys and the Jackson Guards will ever forget it? With banners waving, arms at right shoulder, the bronzed heroes came proudly marching up on Main St. amidst the hussahs of the thousands lining the streets, the girls entwining their heads & shoulders with garlands. The town was all theirs. And how us boys envied them, and then & there vowed to be soldier boys!
David's initial experience with Army life was positive, and he quickly enlisted in Company E of the Fifth Iowa Cavalry, less than a month later. Three years his junior, Josiah Conzett signed up ten days later for service in the same company. Both men would serve with distinction, reenlisting as veterans when their initial commitment ended. During his first tour with the Fifth Iowa Cavalry, David was captured by the Confederates during the Battle at Lockridge's Mill, Tennessee. He returned to his company after a month in enemy hands.

When he was mustered on New Years Day 1864 for his veteran tour with the regiment, David was promoted to the rank of Saddler. After holding that rank for half a year, at his own request, he was returned to the ranks on June 27, 1864.

Unfortunately, David would not survive the war. On July 31, 1864 he perished in the Battle at Newnan, Georgia. Fortunately, his brother did survive the War Between the States. And in large part through the recollections of the war written by First Sergeant Josiah Conzett, details of David's great sacrifice survive today.

The Fifth Iowa Cavalry site is deeply indebted to the Conzett Family for sharing with the rest of the world the Civil War recollections of Josiah Conzett.