Corporal Conrad Biesemeier
Fifth Iowa Volunteer Cavalry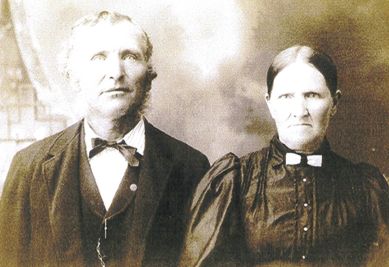 Conrad and Wife Justine in 1899

Conrad Biesemeier (Beesmier, in the Official Roster) was born in Germany on April 11, 1842. He immigrated to Missouri in 1849, where his father died of cholera two years later. Following his enlistment at the outset of the war, Biesemeier served with distinction for the duration. He was in the thick of combat during many of the regiment's most vicious battles. However, he came closest to losing his life when he was unloading a shipment of hay in Mississippi. It was quite dark, and stepping between boats, he was knocked unconscious as he fell into the river. Only a swift rescue by his companions, and aggressive efforts to resuscitate him, saved his life.
Biesemeier was promoted to Eighth Corporal on New Years Day in 1865, and ended the war as the Second Corporal of Company D.
Following the war, he returned home and married Justine Kuhfusz and they moved to Nebraska where they became prosperous farmers.
His grandson recalled several of his exploits in a family history published in 1976. Ordered to dispatch a sniper who had threatened their company, he and two comrades approached the sharpshooter from the rear. When he realized he was surrounded, the left his cover in an effort to take at least one Yankee with him. All three shot at once, and he fell, mortally wounded. Conrad "said he had always been quick on the draw, and he was sure it was his own bullet that killed the Confederate soldier. This troubled him as long as he lived. When he got to the wounded Confederate, he was still conscious. He gave Grandfather his watch and several other belongs, and asked him to get them to his loved ones when the war was over. Then he also learned that the man was a Christian, a churchman and a Sunday School teacher. When he said that, he would add in a trembling voice, 'war is wrong; don't ever enlist.'" It is likely that many other veterans shared his hope that his children and grandchildren would never know the horrors of combat which he had faced. And yet, with the courage of his convictions, this veteran had reenlisted after three full years of service, and fought to the bitter end to ensure that the Union would be preserved.
Sadly, Conrad's younger brother, Christian Biesemeier, did not survive the war. Christian had actually enlisted a month before his brother, but they served side by side until his death due to severe combat wounds in 1865.
The Fifth Iowa Cavalry site is deeply indebted to Ron Fritz for sharing information about his great-grandfather Conrad and his brother Christian Biesemeier.