Private Christian Biesemeier
Fifth Iowa Volunteer Cavalry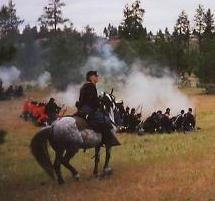 Christian Biesemeier (Beesmier, in the Official Roster) was born in Germany and immigrated to his adopted homeland in 1849. On September 17, 1861 he enlisted in the Fifth Iowa Cavalry, and on November 13, he was mustered into Company D, along with his older brother. Together they served through their initial enlistment, escaping serious injury. But on the day after Christmas in 1864, Christian was seriously wounded at Pulaski, Tennessee. Shot through the liver, he survived for only four days.
Fortunately, his brother, Conrad Biesemeier, did survive the war. He went on to become a successful farmer in Nebraska following his service in the Fifth Iowa Cavalry. But there can be no doubt that he always mourned the loss of his brother during the final year of the war to preserve the Union.
The Fifth Iowa Cavalry site is deeply indebted to Ron Fritz for sharing information about his great-grandfather Conrad and his brother Christian Biesemeier.