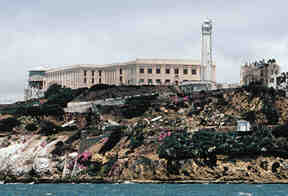 The Birdman of Alcatraz
Inmate Robert Stroud

A few facts about this interesting man:

Many of the elements of the famous movie which starred Burt Lancaster are true. However, not all of the evidence points to Stroud as being such a thoughtful, sensitive inmate.

Stroud died on November 21, 1963 (the day before Kennedy's assassination) in a prison hospital in Springfield, Missouri, at the age of 73.

He served 54 years in prison, amazingly, he lived 42 of them in solitary confinement.

During his imprisonment, using extremely limited tools, Stroud managed to become one of the world's greatest authorities on birds and their diseases. Although rather dated, his monumental text on the subject is still in print today.

When you visit Alcatraz today, Stroud's spacious cell near the prison infirmary is well marked.

Despite becoming known as the "Birdman of Alcatraz," Stroud was not permitted to continue his avian studies during his 17 years of confinement on the island.

Following incarceration in the McNeil Island Penitentiary, where he was sentenced to 12 years for manslaughter in 1909, Stroud was transferred to Leavenworth after serving only three years.

This transfer was dictated by a history of violence since Stroud had been in Leavenworth less than four years when he attacked and killed a guard.

His trial for the guard's murder resulted in the death sentence, but this was commuted to life after his mother requested the intervention of President Wilson.

In order to punish him for his disregard of prison rules in pursuit of his study of avian diseases, Stroud was surreptitiously packed up and moved out to San Francisco in the middle of the night in 1942.

Warden Ed Swope, used the pretense of ill health to move Stroud from the general populace into a private room in the prison's hospital where few were ever able to again see him.

Genuine ill health necessitated his transfer to the Federal Medical Facility in Springfield, Missouri in 1959. Four years after this move, he died of natural causes.

The man about whom books were written and films made was to be ignored in death, as the date of his passing followed by only a single day the assassination of President John Fitzgerald Kennedy.
[To the best of your host's knowledge, he and federal inmate Robert Stroud are unrelated.]

---

---